Dementia friendly journalist means reporting responsibly, accurately and sensitively on dementia, helping to tackle stigma and misperceptions.
This is the eighth post in a regular blog series in the lead up to the Awards ceremony on 30 November.
These awards will recognise the best examples of reporting dementia in print media. Our finalists have reported responsibly, accurately and sensitively on dementia and their coverage has helped tackle stigma, stereotypes and common misperceptions.
There are two awards in this category:
National print journalist
Regional print journalist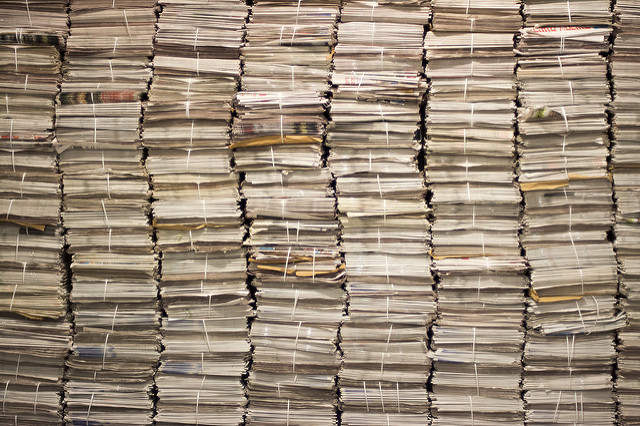 Regional print journalist finalists:
Emma Clayton, Telegraph & Argus, Bradford
Emma's mother was diagnosed with dementia in her fifties and lived with the condition for 15 years until her death in 2014. Emma found watching her mother's decline devastating but found ways of coping, often through good humour.
Emma found the "living bereavement" aspect of dementia particularly hard to deal with and for a while couldn't bring herself to write about it. When she attended a music memory session for people with dementia she felt very sad meeting people who had once led full, active lives, but when she came to write the feature, she realised I'd actually found the session to be uplifting.
Emma started writing features on various aspects of dementia and her experiences with her mother. Several readers got in touch to share similar experiences. Writing about dementia - raising awareness of it and how people can live well with it, giving a voice to people who have the condition and their families - has become important to Emma as a journalist.
Kat Hopps, Newham Recorder (Archant)
Kat has submitted a spread on dementia including a main feature, two small stories and a factbox.
The lead article focuses on four individuals affected by dementia: a mother and daughter, plus a husband and wife. Its purpose was to explain to people the honest realities that people living with dementia, plus their loved ones, experience on a day-to-day basis.
Kat's aim was to ensure that the voices of everyone came through in the piece, both the person with dementia and the loved one around them. She did not want to shy away from the emotional struggles that these individuals face. Instead she wanted to demonstrate the natural frustrations that people may feel following a diagnosis.
In addition, Kat wrote a smaller story about the Memory Lane Cafes run by Alzheimer's Society in order to signpost people to local services that may help.
Kate Liptrot, The Press newspaper and website, York
Kate has written a number of articles about dementia in her role as a health reporter at The Press newspaper. Lots of the stories have been about the difficulties families have faced in finding adequate care for their loved ones, but the article she submitted shows the positive work that can be done to enhance the lives of people living with dementia.
Kate went along to see Vocal Flourish, a choir set up in York, to show that people living with dementia can continue to learn new things. Members are pushed to sing at very high standards, while obviously enjoying every minute. They've been well received in York, receiving a standing ovation at a recent concert. This became one of the most well read stories on the website and was widely shared on social media.
National print journalist finalists:
Joanna Pearl, Which? Magazine
Joanna has most recently written an exposé of the industry that has sprung up around products that claim to cut your risk of dementia.
She examined products such as food supplements and reported one company selling memory capsules to the Advertising Standards Authority. The ASA upheld this complaint and the company has been made to withdraw false claims. Another company voluntarily changed its wording after Joanna contacted them.
Joanna also examined dementia tests and found the evidence lacking to support their use, and concern that they could unduly worry people unnecessarily.
She has written extensively on social care, based on her research with people who are using it and their carers. She captured their experiences through supporting them to keep diaries over several months which she had analysed by a panel of experts. These findings were presented to policy-makers to help them understand the true impact of poor social care on vulnerable people.
Jeremy Laurance, Freelance Health Writer
Jeremy Laurance is a former Health Editor of The Independent and former Health Correspondent of The Times. Since 2013 he has been a freelance health writer.
Many pessimistic reports and articles have been published in recent years explaining how difficult it has proved to develop effective treatments for dementia. Jeremy's submitted article is different. Published in January 2016, it argues that 2016 may turn out to be the year in which progress finally seemed possible. In gathering together a number of separate developments, it replaces pessimism with optimism and represents a scoop of interpretation.
Warren Manger, Daily Mirror
The Daily Mirror's exclusive story revealing that three World Cup winning England footballers are suffering from Alzheimer's is arguably the biggest story of the year about living with dementia. It was timely and poignant ahead of the 50th anniversary of the World Cup victory, raising awareness and understanding about the realities of living with dementia. It shone a spotlight on the need for further research into potential links between contact sport and dementia.
The story prompted an immediate response from English football's governing bodies. Within days the FA wrote to FIFA requesting co-operation researching potential links between heading footballs and cognitive damage later in life. These promises were a major step forward given the prior lack of research.
The paper strove to cover this story in a sensitive and responsible manner. They contacted each of the players and their families to explain how they wanted to cover the story, and worked with them to address an issue of great concern to them, omitting any details they were not comfortable publishing.