Cupcake Day is on 14 June, and this year we're calling on all bakers to whip up a storm and help us beat dementia. Try these recipes on for size.
This year, you don't have to be a cook book pro to take part. You can be that messy baker, a sprinkle freak or the one who fakes it.
If your cake arrives with a soggy bottom, a burnt edge or a perfectly iced top, it doesn't matter. All that matters is that it gets to the table.
Not sure where to start? Here are two delicious recipes from our friends at woman&home. Visit their website to find more cake inspiration.
Gingerbread cupcakes with golden syrup icing
​
For the cupcakes:
125g black treacle
1 tsp bicarbonate of soda
125g plain flour
1 tsp baking powder
½ tbsp ginger
1 tsp cinnamon
A pinch of nutmeg
3 medium eggs
100g soft light brown sugar
100ml sunflower oil
For the icing:
175g unsalted butter
400g icing sugar
2 tbsp milk
1 tbsp vanilla
4 tbsp golden syrup
crystallised ginger, to decorate
Method
Preheat oven to 190C, 170C fan, 375F, Gas Mark 5. Warm the treacle in a large saucepan then stir through the bicarbonate of soda, flour, baking powder, ginger, cinnamon and nutmeg. In a separate bowl beat the eggs, sugar and oil together. Pour into the treacle mixture and whisk until well combined.
Spoon into the cupcake cases and bake for 16-18 minutes until the sponge springs back when you lightly press on them. Leave to cool on a cooling rack.
Using an electric whisk beat the butter and the sugar until light and fluffy. Stir in the milk, vanilla and golden syrup and mix until combined. Spoon the buttercream onto the cupcakes and spread to create a texture. Top with chopped crystallised ginger to serve.
Gluten-free chocolate almond cupcakes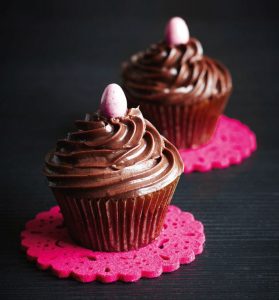 ​
For the cupcakes:
250g dark chocolate, broken into squares
6 eggs, separated
200g golden caster sugar
150g ground almonds
For the frosting:
500g tub full-fat cream cheese
2tsp vanilla bean paste
350g golden icing sugar, sieved • 50g cocoa, sieved
12 chocolate mini eggs
Method
Heat the oven to 180C or Gas Mark 4. Melt the chocolate in a heatproof bowl set over a pan of simmering water. Do not stir.
Whisk the egg whites until softly peaking and set aside. Whisk the egg yolks and sugar together with an electric mixer for about 5 minutes until thick and pale.
Stir in the melted chocolate and ground almonds, then gently fold in the egg whites until evenly combined.
Divide the mixture between the muffin cases and bake for 25 minutes or until just firm. Cool completely.
To make the frosting, put the cream cheese and vanilla bean paste into a bowl, then gradually sieve in the icing sugar and cocoa until smooth.
Spoon the frosting into the piping bag, then pipe large swirls on to the cooled cakes. Finally, top each cupcake with a chocolate mini egg.
Sign up for your free Cupcake Day fundraising kit, including more recipes, fundraising materials and tips.
Sign up