During visits to Birmingham's Botanical Gardens with Mum, who had memory and hearing problems, Jeremy drew the peacocks and cockatoos to share messages with her. The notepad became a record of visits, a source of humour, a therapy, and something special to share with others.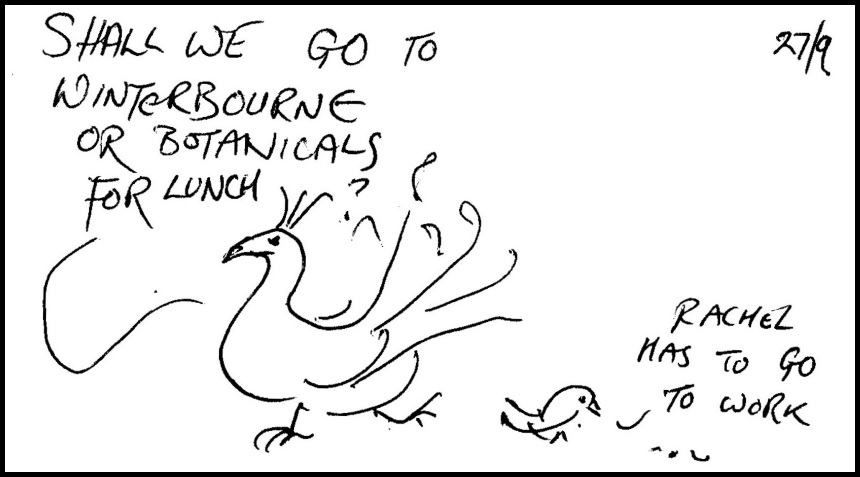 ​
An illustration from Jeremy's book, Conversations with Cockatoos
Becoming a carer
Like many long journeys, my route to helping care for my partner's mother was a gradual one.
I was a newcomer to the family so my partner Rachel, her sister Laura, and their Mum had travelled a long way together in different times before I got to know them.
We shared the way with Rachel's Dad, cared for at home through twilight years of undiagnosed dementia by Mum, whose petite stature belied such a tough physical and mental character. Those were the years of family trips to National Trust properties and gardens in Birmingham.
When Dad died after spells in hospital, Mum took in her stride (more like a determined shuffle, actually) the absence of her companion in the house and her major mission in life for so long. The routine continued, with Friday shopping trips to Solihull and so on.
Mum's deafness became more of an issue and her sparse communications began to show that her memory, like the clothes she wore day in day out, was showing signs of wear and tear.
For various reasons I took early retirement and got into a rough pattern of weekly commuting to Birmingham to be able to support Rachel in the driving and caring duties.
This meant Mum could continue an increasingly precarious existence in her own home, and Rachel did not have to sacrifice her (part time) career.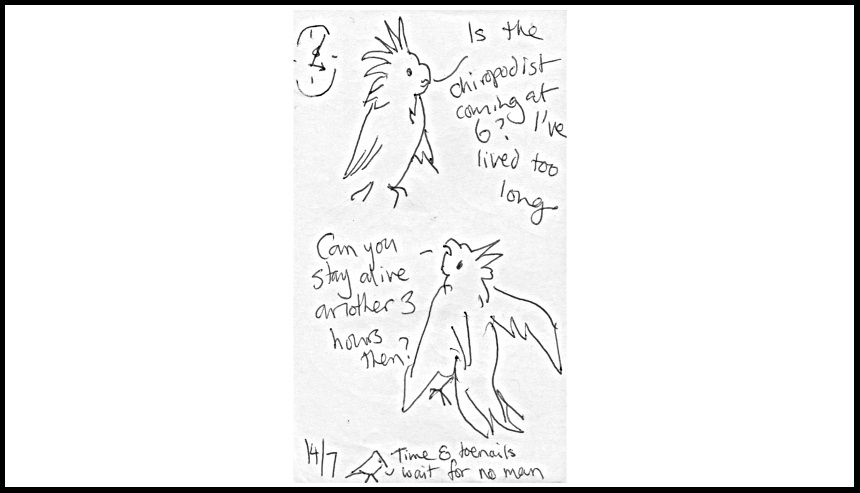 A drawing from the book where the cockatoos talk about 'the daily dramas of survival'
Spending time together
We saw Mum through a spell in hospital, relined her winter coat, replaced her handbag with a specially-made replica and carried on with visits to the Birmingham Botanical Gardens and other baked potato venues.
The deafness continued, as did regular enquiries as to what day of the week it was, and occasional announcements that she had had enough.
I was finding I was increasingly on my own with Mum, maybe waiting for Rachel, and needing to explain what was happening.
I got a small tear-off notepad from the local stationers: I didn't like shouting and felt that often it made things worse, so I wrote stuff down.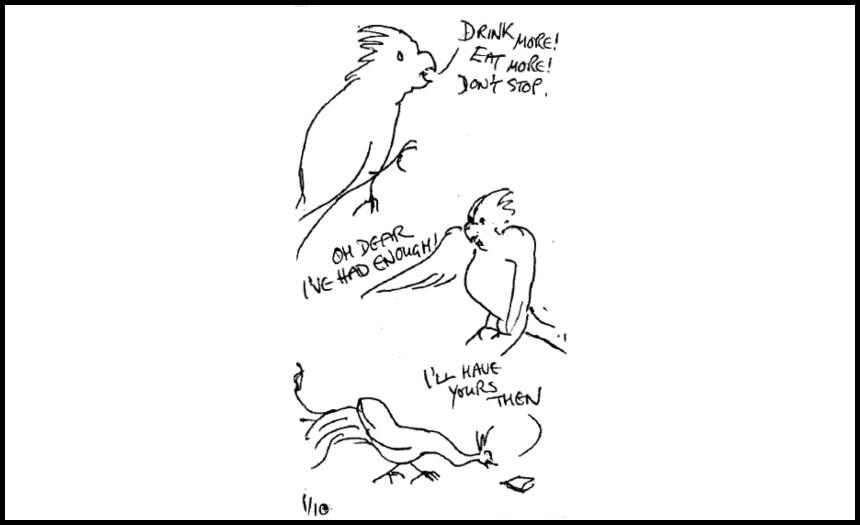 A sense of humour helped get arguments into perspective
Visits to the Gardens
The Birmingham Botanical Gardens was a favourite place to visit. An increasing tribe of peafowl roamed the gardens and there was an aviary with many birds, including some cockatoos, which Mum might talk to spontaneously.
If we were in the café there and I was explaining something, I might fill the time and space on the pad with an amateur doodle of a peacock. If we were waiting for lunch, the peacock might volunteer its views on food: (never enough).
If I wanted to reply to or comment on something Mum had said, I would put her words in the mouth (beak?) of a cockatoo.
It's difficult to have a conversation when you can't remember what you said yourself. They weren't bad conversations, but sometimes repetitive or challenging. This way we could laugh at the words, agree with them, share them and value them.
In conversation with Mum
Mum's reactions varied: she might laugh, admit that she had thought the same thing, put the page in her purse for safe keeping, or if I had made a self-indulgent joke on the notepad shake her head and look toward Rachel for help. Mum never lost her social skills.
In an earlier life Mum had worked on a little known magazine, Time and Tide. Maybe this was a chance to relive her sub-editing skills, or to assess submissions. Whatever inscrutable process was going on in her mind, we were having some sort of conversation.
Not surprisingly, the birds in the pictures often had misunderstandings, talked at cross purposes, and hopefully (I know I did) ended up with a better understanding of stuff.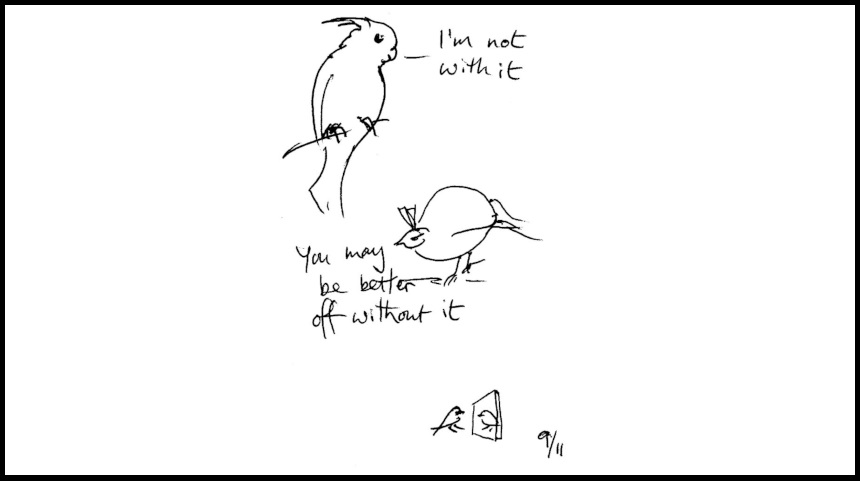 One of the messages that should appear in Volume Two of Conversations with Cockatoos
Creating the book
Maybe just one too many of my friends asked how Rachel's mother was, and then laughed too loud at the pictures, or shared too many of their own relevant experiences.
I scanned in the original notepad pages and got the local printer to put 40 of them in a booklet. The first edition is a collection of illustrations mostly between July and October 2018.
Fondly remembering Mum
As Mum's mind started to show signs of use, it got more difficult to engage with the wider world, but it also got more precious.
Her refusal to confront her deafness had been the source of irritation, but ultimately it was part of her.
The dementia, which was never diagnosed, finally, but gently, took her away. She went on a journey which she chose and we, her companions on that journey, are lucky to have something to remember her by.
Get a copy of Conversations with Cockatoos
If you are interested in receiving printed copies of Jeremy's book (£3.00 each, including postage), or if you'd like to learn more about the upcoming Volume Two, please contact Jeremy directly via email.
Send an email