Dr Louise Walker, Research Communications Officer, celebrates the work of our female dementia researchers on Ada Lovelace Day.
Today is Ada Lovelace Day, which celebrates the work of women in the fields of Science, Technology, Engineering and Maths (STEM).
In the 1840s, Ada Lovelace wrote an algorithm for the Analytical Engine, a prototype computer. It was this work that earnt her the title of 'world's first computer programmer.'
Ada Lovelace was a pioneer for women in STEM but somewhat shockingly, only about 24% of professors in UK universities are currently women. Alzheimer's Society has continually bucked this trend when it comes to our funded researchers. Over the last few years the number of women who hold research grants with us has remained at or around 50%.
This Ada Lovelace day, we're celebrating the work of the amazing female researchers who are dedicating their careers to helping people affected by dementia.
Establishing research centres
Although overall the number of female professors in the UK is too low, in dementia research we are incredibly fortunate that many women are establishing and running dedicated research centres.
Created in 2014, our Doctoral Training Centres bring the best and brightest minds into dementia research. Six of the eight centres are being run by pioneering women; all of whom have fantastic track records in dementia research and guiding new researchers in the field.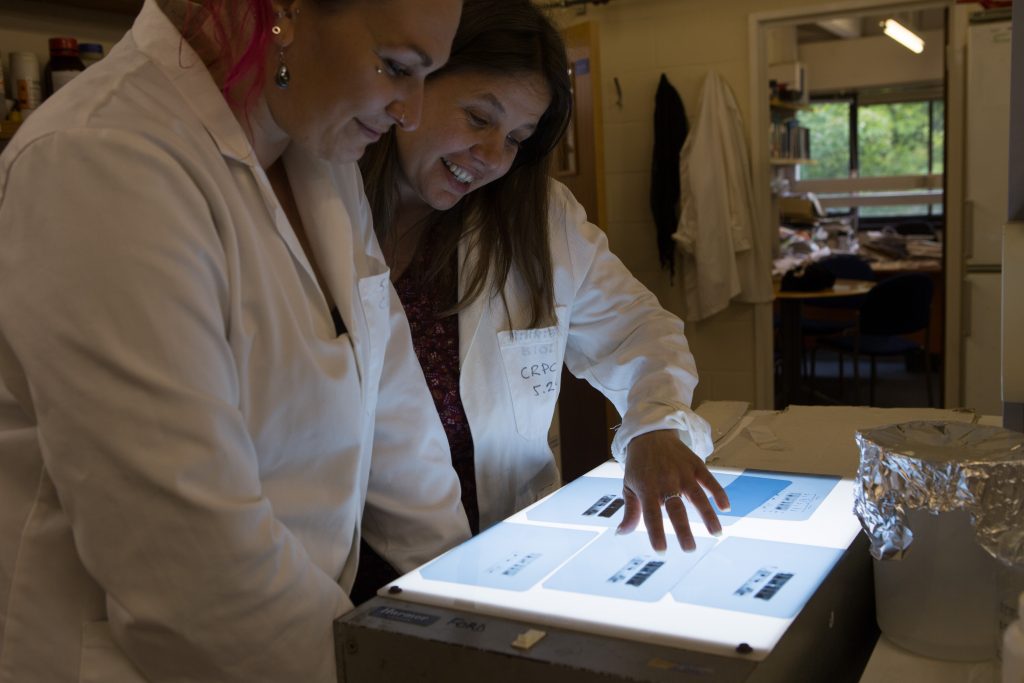 Researchers at the Sussex Doctoral Training Centre discussing experimental results (photo credit: Grant Melton)
Our dedication to care research led us to launch the Centres of Excellence earlier in 2017. We awarded three centres to extremely impressive, high-quality, ambitious programmes. All three centres are being run by women: Linda Clare from the University of Exeter, Louise Robinson from the University of Newcastle and Claudia Cooper from University College London.
The work of female researchers has also been recognised by the Dementia Research Institute, with two female associate professors leading groundbreaking programmes of work: Julie Williams in Cardiff and Giovanna Mallucci in Cambridge.
Winning awards
Our Dementia Research Leaders awards recognise and celebrate the work of early career researchers. Of the 17 people who have been recognised by the Dementia Research Leaders awards so far, 10 are women.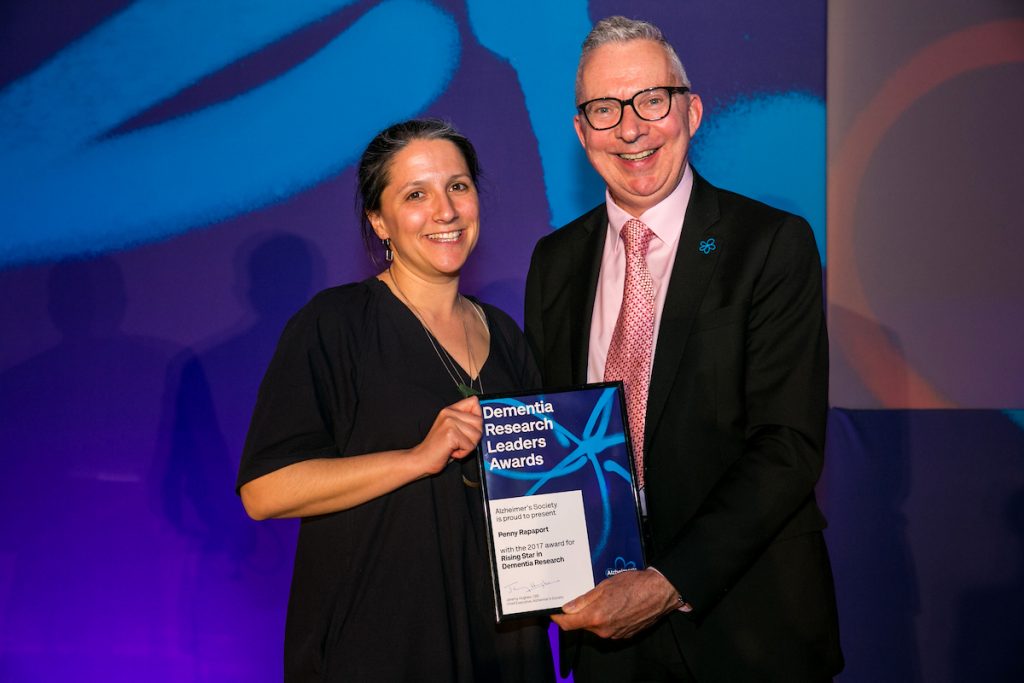 Penny Rapaport receives her "Rising Star in Dementia Research" award from Alzheimer's Society CEO Jeremy Hughes (photo credit: Pete Jones)
The winners have ranged from biomedical specialists to people from care research backgrounds and they have been recognised for excellence in a wide variety of fields. This includes exceptional academic achievement, dedication to involving patients and the public in their work and making a great impact in the field of dementia research although they are relatively early on in their careers.
Working towards a world without dementia
Along with having a high proportion of female centre directors and grant holders, a large number of Alzheimer's Society's PhD students, postdoctoral scientists and Fellows are women.
Their work covers a diverse array of research specialities, from understanding the earliest changes in brain cells in dementia through to cutting-edge drug discovery; or working out how to improve care in care homes or helping to make hospital visits better for people with dementia.
They come from a wide variety of research and professional backgrounds too, including biochemistry, neuroscience, nursing, psychology, occupational therapy and physics to name just a few.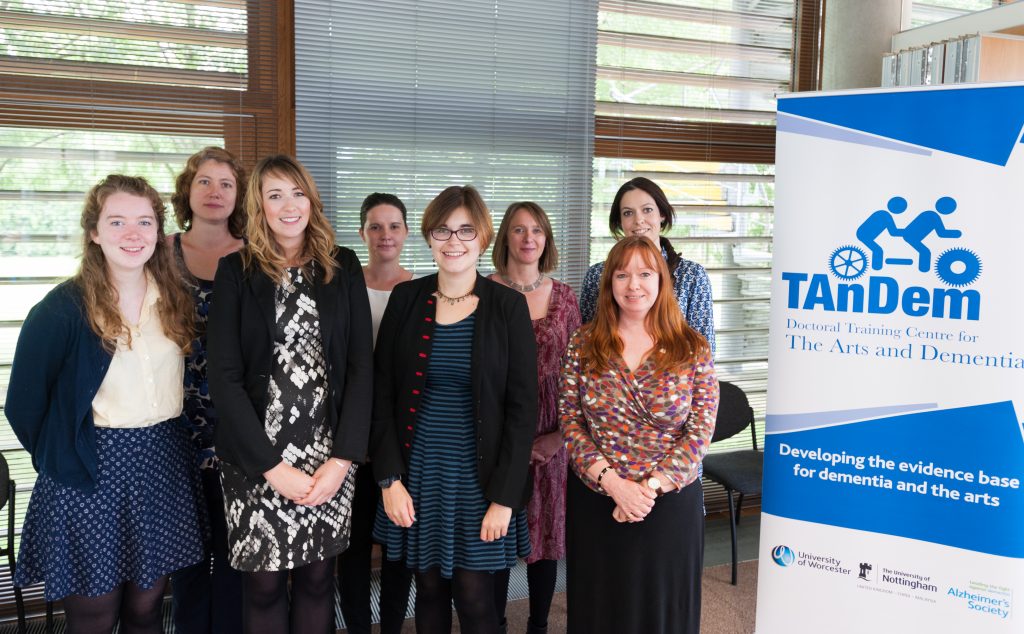 Members of the Tandem Doctoral Training Centre at the Universities of Nottingham and Worcester (photo credit: Lewis Stainer)
We're extremely proud of the achievements of all of our researchers, male and female, and are thrilled that Alzheimer's Society is able to play a part in establishing or furthering the dementia research careers of so many remarkable people.
Ada Lovelace day is dedicated to raising awareness of the vital work of female researchers. We would, therefore, like to take this opportunity to thank all the women who are working with us to create a better future for people affected by dementia.