Dr Louise Walker talks about the work of our early-career dementia researchers and the annual Dementia Research Leaders awards.
Whilst the achievements of senior researchers are often acknowledged in the media and research community, it's also vital that we recognise the work of researchers in the earlier stages of their careers.
We're dedicated to supporting early and mid-career researchers via our Dementia Research Leaders programme. As well as creating eight Doctoral Training Centres, we provide mentoring and career support for people, while they establish themselves as independent dementia researchers.
Our Dementia Research Leaders awards are the pinnacle of this programme - they recognise the achievements of researchers who have great potential to improve the lives of people affected by dementia.
The categories
There are two categories for the awards, Rising Star in dementia research and Outstanding early career contribution to dementia research.
The Rising Star award is for those doing a PhD or who completed it within the last four years, and the Outstanding Contribution award is for those who completed their PhD between four and ten years ago.
Both awards are judged on a number of criteria, including academic achievement, use of Patient and Public Involvement and mentoring or supporting other researchers.
This year we had a record number of nominations recognising the work of researchers from across both the biomedical and care fields, highlighting the breadth and diversity of work happening in dementia research.
Rising Star in dementia research
Overall winner: Penny Rapaport, University College London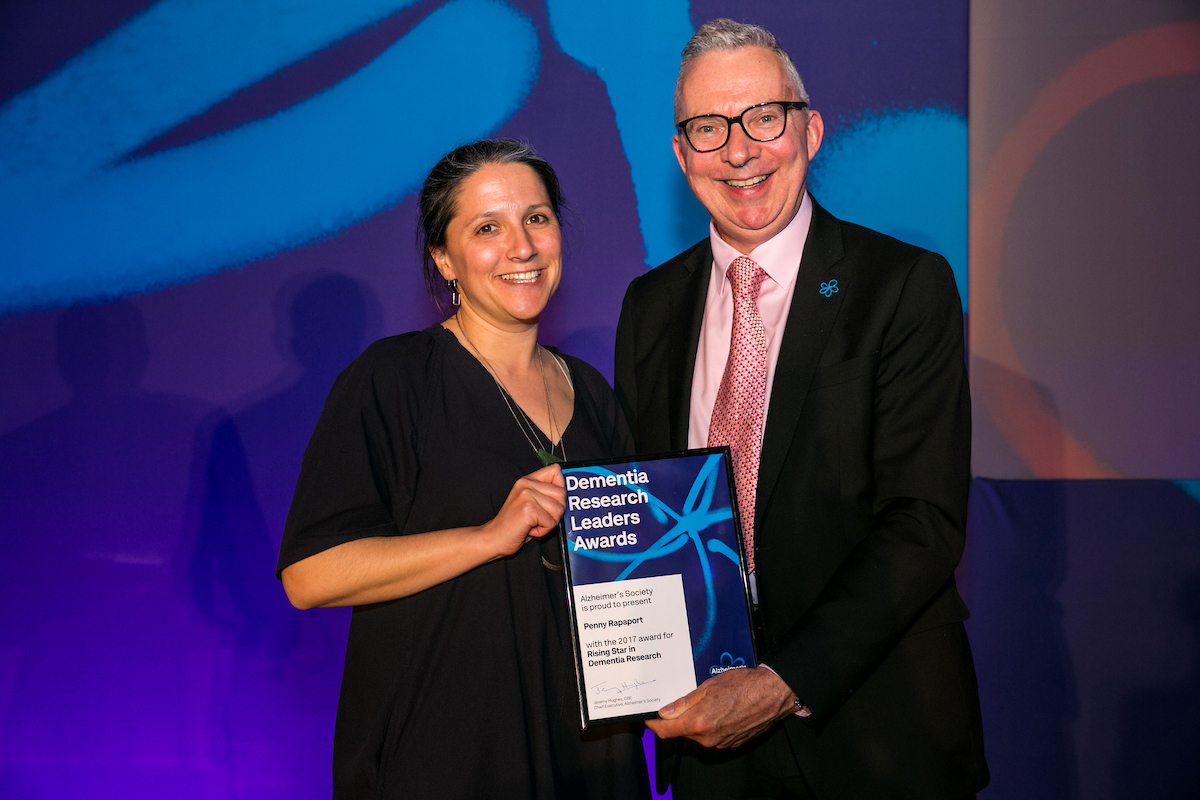 Penny receives her award from Alzheimer's Society CEO Jeremy Hughes © Pete Jones
Penny is a clinical psychologist who specialises in providing psychosocial care for people affected by dementia. She was instrumental in the 'STrAtegies for RelaTives' (START) programme, which helps carers to improve their wellbeing.
Currently studying for a PhD, Penny was commended for the impact she has already made in the world of dementia care, her impressive publication record and the fact that she had a very bright future ahead of her.
Penny says:
'I was thrilled to receive the award recognising my research into developing sustainable and innovative psychosocial interventions for people with dementia and their families. We could not do this work without the support of the Alzheimer's Society and the invaluable contribution of the Research Network Volunteers.
'Receiving the award has inspired me to continue this work finding ways to improve the lives of people with dementia and to motivate and support others to do the same.'
Runners-up: Tom Russ, University of Edinburgh; Tamara Backhouse, University of East Anglia; Sana Suri, University of Oxford.
Tom Russ does groundbreaking work on understanding risk factors for dementia. The judges also praised his energy and commitment to the field.
Tamara Backhouse specialises in understanding how to reduce the use of harmful antipsychotics for people with dementia. The judges were particularly impressed by her dedication to getting her work put into practice.
Sana Suri works in a novel area, using brain imaging to understand the genetic risk of dementia in young adults. Her impressive publication record and excellent communication skills were also commended by the judges.
Outstanding early career contribution to dementia research
Overall winner: Francesco Aprile, University of Cambridge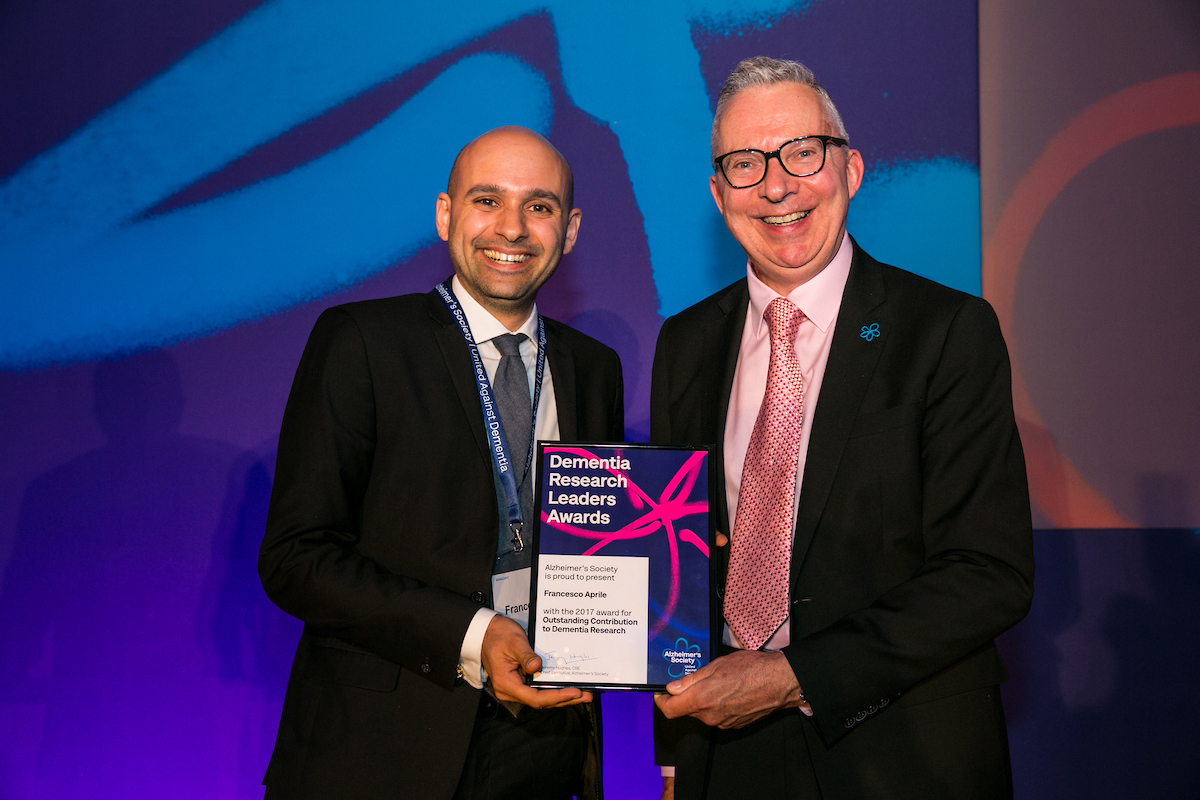 Francesco receives his award from Alzheimer's Society CEO, Jeremy Hughes © Pete Jones
Francesco's work involves using innovative computational and experimental techniques to design treatments for Alzheimer's disease.
The judges liked his clear vision for his career and defined goals, his novel area of work and his excellent publication record.
He also works to engage school students, often from underprivileged backgrounds, to help them to understand what a career in research is like.
Francesco says:
'It was a huge honour to receive the "2017 Outstanding early career contribution to dementia research" award in recognition of my scientific efforts on devising therapeutic molecules against Alzheimer's disease.
'This year's annual conference was inspirational. A wide range of people, not only scientists, but importantly people who experience dementia, and those who inform policy changes and care practices, all came together to further cement the common goal of defeating dementia. This prize and the conference gave me further motivation to use research to tackle dementia and increase awareness of the importance of a cure.'
Runner up: Mario Parra, Heriot-Watt University
Mario's research involves using EEG brain scans to better diagnose dementia. The judges were very impressed by the pioneering nature of Mario's work, his collaborations with international research groups and his enthusiasm in communicating to non-scientists and people affected by dementia about his research.
And finally...
As a member of Alzheimer's Society's Research and Development directorate, these awards are one of the highlights of my year.
It is so heartening to hear about the amazing work that all of the nominated candidates are undertaking, and I am thrilled that we are able to acknowledge the progress that early-career dementia researchers are making.