Many people who care for someone with dementia can feel worried or guilty. Cath, whose mum has Alzheimer's disease, describes her feelings of guilt.
Read part one of Cath's story for more on how her mum's dementia diagnosis has affected the family.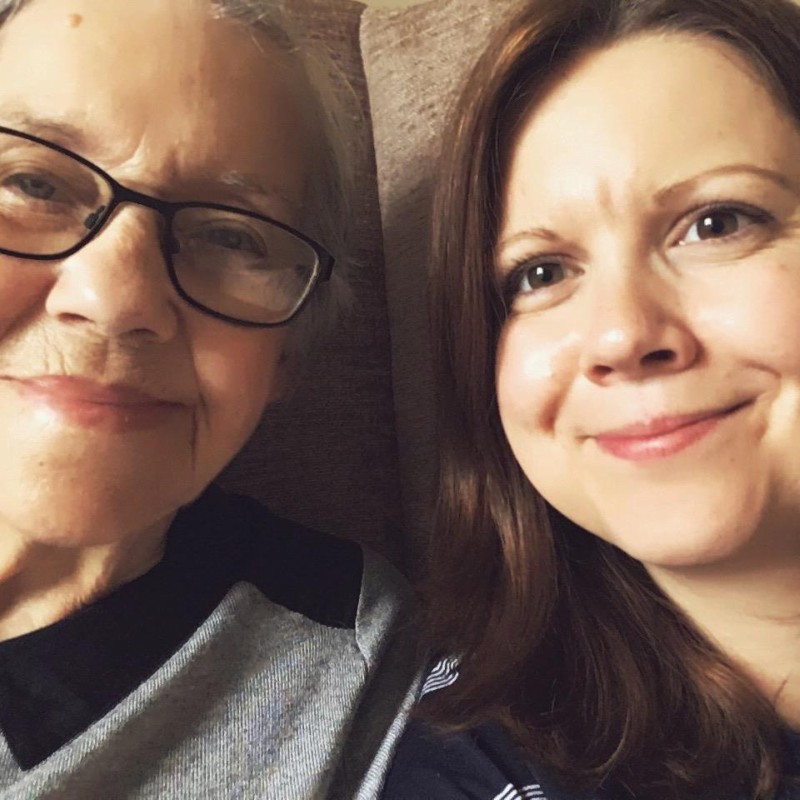 ​
Mum's diagnosis finds me in a strange place, a kind of parallel world to that of many of my friends.
Whilst they're announcing pregnancies, talking toddler-taming and toilet habits, worrying about playground bugs and picking out primary schools, I'm trying to fathom the strange habits and behaviours my mum is developing. I'm ordering incontinence products and waterproof sheets, worrying about mum's swallowing and hydration and considering care packages.
Some days it really does feel like I'm living in a different universe. And whilst I love hearing about all the joy that my friends' children bring sometimes, just sometimes, it leaves me feeling a bit sore.
Alzheimer's disease loves to be unpredictable
Having been hyper-aware of Alzheimer's for so long, I've read everything I could to understand it, to predict what would come next, plan for the future and be able to help mum and dad. But it doesn't work that way. It turns out Alzheimer's loves to be unpredictable – like the gremlin I see it as.
I'd never factored in mum's broken hip and how a hospital stay would speed up symptoms so much, and I'd certainly never considered that she would need care in a home so soon – even for just respite. And yet, a few weeks ago, with no small amount of deception, my dad and brother took her 'out for lunch' to the home, and then just left.
I'm not sure either of them will ever get over the guilt.
I say 'just left', that would imply that such an act was a doddle, when in reality I'm not sure either of them will ever get over the guilt. Nor will I get over the fact that I wasn't there to help.
Mum's respite period is coming to an end, and we're now faced with what to do next.
So, this week has seen social care assessments, a surreal process where far too much time is spent considering mental capacities, how compliant she is and intimate details of mum's health that a few years ago she'd have been mortified to have even heard mentioned.
I can't begin to explain how disloyal it all felt. And whilst I know it's for the best, that we're only trying to do what's right for mum, it's just more guilt piled on top of the enormous pile that the Alzheimer's gremlins have already doled out.
The worst part of dementia
I'd always thought that the worst part of dementia would be when Mum would no longer know who I was. Although that hasn't happened yet, and I'm already dreading it, I think the guilt is even worse.
Guilt that you don't visit enough, that you can't make any of it better, that when you visit you always have to leave, that you're letting others do the 'caring', that you haven't moved closer to be able help every day, that you can go out and watch a film, have a pub meal or see friends whilst they can't…the list really is endless.
And then there's the fear, sometimes just nagging, other times near paralyzing, that it's all going to happen to you. Because when your nan, mum and two uncles all have it you realise that the odds might not be stacked in your favour.
And despite having studied the genetics of it all, and knowing that it's not always down to DNA, you'd have to be a fool not to have considered that it's a possibility, if not a probability: especially when you look in a mirror and see both your nan and mum staring back at you in the roundedness of your cheeks, the upturn of your nose and the cheekiness of your smile.
And then to top it all off guilt rears its ugly head again – how can you be thinking of yourself when you should be thinking of your mum: how selfish of you. Because Alzheimer's really is the 'gift' that keeps on giving.
My Mum is special
I realise that my family's story is nothing special. We're just one of many going through this right now, and that with an aging population, they'll soon be even more of us. But my mum is special, and I don't want to lose her. And my dad's special, and I don't want him to have to watch his wife of over 50 years disappear before his eyes. And my brother's special, and I don't want him to lose his mum piece by piece.
Frankly I want that Hollywood happy ending, where my beautiful mum and dad drive off into the sunset as the screen cuts to those immortal words