Oscar-nomiated actress Carey Mulligan talked about dementia on BBC Radio 4's Today programme, to raise dementia awareness.
As an Alzheimer's Society Global Dementia Friends Ambassador, Carey Mulligan discusses her personal connection to dementia, Christmas time and the key role Dementia Friends plays in reducing stigma.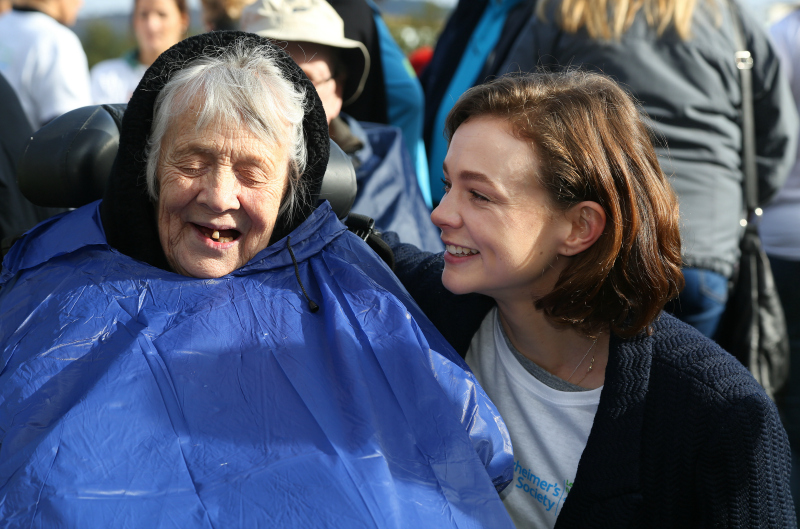 The Christmas period is undoubtedly a time many of us look forward to spending with family and friends and that's no different for me. My beloved grandmother 'Nans' turned 91 a couple of days before Christmas and my family and many of Nans' friends – laden with copious amounts of cake – went down to Wales to see her and celebrate.
Nans and I have always been extremely close and she is the single most influential person in my life aside from my parents. Nans was diagnosed with dementia in 2004 and from that moment our lives changed significantly – but on days like Friday, when we all come together and celebrate her life with those who love her the most, there are still moments of the purest magic.
Dementia is an urgent health crisis that we can no longer ignore. 850,000 people in the UK have dementia and over 47million people live with the condition the world over.
As a society, the way we view dementia has improved in recent years, but there is still a long way to go and stigma remains rife. Too many common myths and misconceptions around dementia still exist. Time and again I hear reference to dementia just being a natural part of ageing and, unfortunately, it is so often the butt of distasteful jokes. But dementia is a disease of the brain and it requires understanding, care and support.
The first step in changing the landscape of dementia and improving the lives of people who have the condition involves educating people not just on our doorstep, but across the world.
The Dementia Friends initiative is doing fantastic work in England and Wales. It's the biggest social action movement of its kind in the UK, with over 1.7 million people signed up to take action and change the way people think, act and talk about dementia.
As Alzheimer's Society's first Global Dementia Friends Ambassador my aim is to raise awareness and help change global attitudes towards dementia. I recently delivered a Dementia Friends session to 50 young people at Pacific Hills High School in LA on World Alzheimer's' Day 2016. It was amazing to see how receptive the young people were and I was in awe of how keen they were to engage and share their own experiences of dementia. A young person growing up with an understanding of dementia is one of the most crucial steps in changing how it is viewed worldwide and building a dementia friendly generation.
Like the hundreds of thousands of people living with dementia and their loved ones, I have seen first-hand the challenges dementia brings. I understand what a vital role society – individuals and entire communities - has in supporting people with dementia so they can feel included and stay connected. Because life doesn't have to end with a dementia diagnosis.
In fact, we heard this morning on Today how an early diagnosis is incredibly important, yet not enough GPs are willing to diagnose. I can't advocate enough how important a timely diagnosis of dementia can be. It enables someone living with dementia to understand their condition and to explore the ways in which they can be supported and receive the best possible care.
We are very lucky that, together with Nans, we were able to find a brilliant care home. Nans has lived there since 2006 and it is truly her home. The staff all go above and beyond to treat each person as the individuals they are. For example, they know she was a teacher, that she has three children, and take a keen interest in her life history and the things she enjoys. The care home requests a biography of each person, so that even if they can no longer communicate verbally they get a real sense of who each individual is.
In addition to the fantastic staff at her care home, Nans has a wonderful support network around her of loving family and friends who visit her regularly. Every visit has moments of real joy. She may not remember our visits but there is no doubt in my mind that she feels every ounce of the overwhelming love and respect we all have for her. That her oldest friends still take the time to visit her, even if just to sit with her in quiet reflection, means so much to her and all of us.
These were sentiments echoed by Michael Palin when I spoke to him for the Today programme. He spoke about his close friendship with fellow Python Terry Jones, who has the condition, while Michael Parkinson spoke about his own experience of dementia with his mother, Freda. Our discussion brought home to me even more how dementia is individual to each person and how it affects everyone who lives with it so differently. Both Michaels also discussed how crucial it is for family and friends to keep visiting and spending time with their loved ones living with dementia after diagnosis. They felt this is essential to help them feel connected and included, even though it might be challenging at times for the person visiting.
It's so important that everyone living with the condition is treated with the respect and dignity that they deserve. At the moment, there's not nearly enough awareness about what dementia is and as a society we all have a duty to change that.
Carey Mulligan is Alzheimer's Society's Global Dementia Friends Ambassador. Find out more about becoming a Dementia Friend at www.dementiafriends.org.
Listen to Carey on Today on the BBC Radio 4 website.