Callum ran the Brighton Marathon in remembrance of the woman his Nan once was. And for all the other families affected by dementia. Watch his full story.
Dementia is the biggest health crisis facing society. Someone develops the condition every three minutes.
Thousands of you came together in 2017 to unite against dementia. Whether baking cupcakes, running miles or volunteering your time, we can't thank you enough for everything you've done this year.
Callum is just one of our brilliant supporters. If running the Brighton Marathon back in March wasn't enough, he raised a whopping £1000 in the process! Here he shares his story and explains why he's uniting against dementia.
Callum's story
Dementia scares the hell out of me. It's hard to imagine anything much worse than losing your memories, your character and your ability to communicate. Everything that makes you, 'you.'
Like many of you, I have a personal connection with dementia. My Nan has a less common and genetic form called Frontotemporal dementia (also known as Pick's Disease/Frontal Lobe dementia).
Unlike Alzheimer's there are no drugs to help stay the effects of this form of dementia, yet.
Fond memories growing up
I am lucky enough to still have my Nan here and hold lots of fantastic memories of her from when I was younger - playing in the garden, making bows and arrows, walks with the dogs and picking pop-peas and raspberries.
I can't eat a raspberry without being instantly transported back to being with her in the raspberry patch nearly 10 years ago. Her smile sticks in my mind.
She also had a real way with words and self-published two books. Recently, whilst going through her things at her home, we found all sorts of short stories and tit-bits about our entire family. These now treasured pieces of paper capture something she, and we, will unfortunately never have again.
How dementia affects my Nan
As lucky as I am to have her here and hold these wonderful memories, the reality is that my Nan is not the same woman she was 5 years ago and every time I see her, the woman I met last. Unfortunately, that is only going to continue.
At the time I ran the marathon, amongst other things, she was more withdrawn and losing the ability to express herself or have a conversation. Luckily she still had her physical health and loved a hug.
Since then, she has sadly rapidly declined: her health is deteriorating, she is eating and drinking less and less (if at all) and often won't speak.
When I went to visit her recently, she didn't recognise me at all. I sat and read a book to her for over an hour (a favourite not too long ago – she used to like the pictures), but she rarely made eye contact with me and didn't say a word.
That was incredibly tough for me. I can't imagine how difficult the whole situation must be for her.
On top of seeing the effect of this terrible disease on her, it's also incredibly hard seeing its impact on the rest of my family.
Why did I choose to run the Brighton Marathon?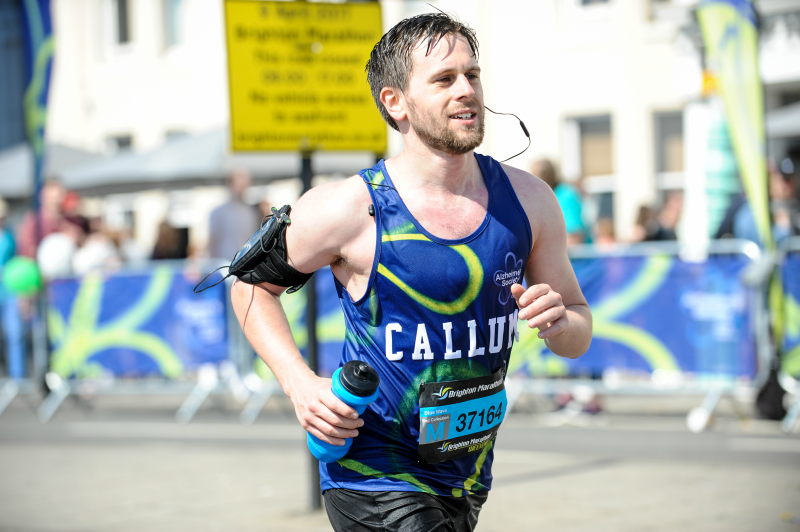 Going strong at the Brighton Marathon When setting up my fundraising page I was asked whether I was running in remembrance of someone. It seemed odd to put my Nan, who is still here. But the reality is that she isn't the same person I grew up knowing and am fortunate enough to remember.
So I ran the marathon in remembrance of the woman my Nan was. She was, and in my mind, still is, a wonderful woman - very loving, incredibly caring, a wordsmith and a filthy cheat when playing Snap!
But I also ran in support of all of those people who provide support and care for someone affected by dementia. And to those who have lost or are losing someone to this dreadful condition.
That's what got me through the training and the sweltering 26.2 miles.
It was hard. But the sense of achievement I felt when completing the marathon, as well as the generosity of everyone donating in order to be able to raise all the money, was incredible. Needless to say, seeing friends, family and everyone else cheering you on whilst making it around the course on the day is unreal.
Dementia affects so many people. It's not just my Nan. It's not just my family. It happens to thousands of people across the UK. If the money I've raised can make even the smallest of impact to someone's life somewhere, then it's all been worth it.
Fundraise for Alzheimer's Society