Alzheimer's Society ambassador and cake mix queen, Joy, lives with dementia. This year she toured her community dressed as a cupcake to find the best batch.
Joy toured her local community dressed as a cupcake to find the best batch while raising awareness for the Society's work. See how she got on below!

[7am]
My day began bright and early by icing some cupcakes donated by nearby shops. These were loaded into a cool bag and placed in the cupcake-shaped box on the back of my cupcake-themed bike, making sure all my decorations were tightly secured. I didn't want anything to be lost overboard during the challenge, nor did I want cupcakes strewn all over the road if the box became detached!
[8am]
Arriving on time at my first destination, Salford University, I helped decorate the dementia hub with all things Cupcake. I just about had time to prepare the raffle before leaving the staff and volunteers to continue their day. There wasn't even time to indulge in a cake myself, but the day was young!
[9:30]
Arriving at the Oxfam offices, I was greeted by several enthusiastic people. I couldn't tell if they were more excited about having cupcakes on their coffee break or this daft woman arriving on a stunt bike, but I wasn't bothered which it was. They had organised a cupcake event and that was the all-important thing.
Even more important were the conversations I had with the team, some of whom had a personal experience of dementia. This resulted in my arranging some Dementia Friends sessions for the staff. I could have stayed all morning chatting to folk, but I knew I was running late for the next event.

[11am]
My next stop was The Morson Group, a large construction company that has always been very supportive when it comes to dementia-related issues. Even so, when the Chief Executive came down from his office with a good number of his staff I was blown away. He didn't just give the bike challenge a courteous recognition – he was genuinely interested and even joked about having me as the local mascot for the company. I know I've been heard to say I will do ANYTHING if it helps other people to live well with dementia, but I'm hoping he was only joking.
The serious aspect though – he too was keen to have some Dementia Friends sessions. See, it's not all about eating cupcakes, it's about one-to-one encounters that have a knock-on effect in raising awareness.
[12.15]
It was getting on for lunchtime and my tummy was rumbling, but we still had Morrison's Supermarket to visit. Chatting to people outside the store, I was glad we had gone to the trouble of printing off a load of handouts giving information about the Society and what the day was all about.
Giving out cupcakes certainly attracts people's attention too, but our cupcake supply was diminishing fast. I made an executive decision to purchase emergency extras.
[1.45pm]
Seeing everyone around me eating cupcakes reminded me it was way past lunchtime, so we headed off to Wetherspoons where they were holding an event of their own.
But it wasn't so straightforward. On passing Specsavers, the manager came out wanting to know what was going on. Having done several Dementia Friends sessions at her shop, I felt I wanted to share the day's fun with her. She was disappointed she didn't know it was Cupcake Day and asked if she could have one tomorrow, which she duly did.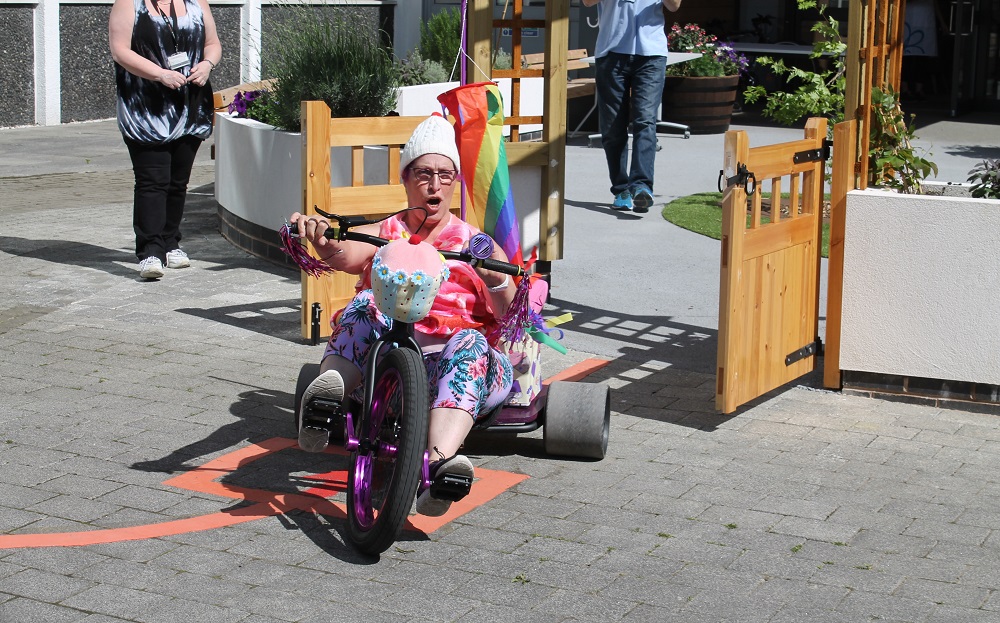 [2.30 pm]
We did eventually land at Wetherspoons and I was glad of the rest – they even allowed me to take the bike in, how cool is that?
It's true what they say, once you stop, it's difficult to get started again, but we still had cupcakes left and the ice packs were melting. This was the incentive I needed to get back on my bike.
[3.30pm]
If I needed any more of an incentive, it was the opportunity to thank the team at the Helly Hansen Water sports Centre who had helped in organising a family fun day for Dementia Awareness Week. As you can imagine, the remaining cupcakes went down well, but the highlight for them was having a go on the stunt bike. Thankfully, they weren't put off by the glittery pink cupcake paraphernalia.
[4.15pm]
Our day was coming to an end and, if I'm honest, I was exhausted, so made our way home via Media City. There was no-one available to chat to, but it's always worth a try! It's a shame that Angela Rippon wasn't filming, I feel sure she would have had one of my few remaining cupcakes.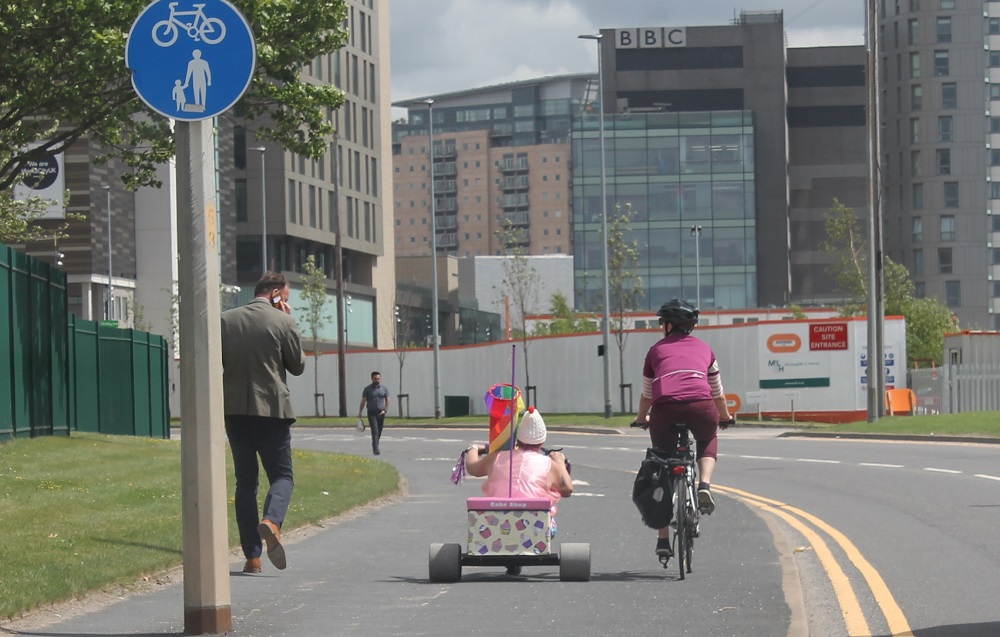 Missed this year's Cupcake Day? Check out our other events and fundraising ideas or make a donation via the Cupcake Day website.