Christmas can be the loneliest time for people living with dementia, our Talking point forum and Helpline are available for support and advice.
For many, Christmas is the year's highlight...
The light at the end of the gloomy winter tunnel, when people get together with friends and family to eat and drink as much as they possibly can, sing carols while decking the halls with boughs of holly and, of course, enjoy the customary mistletoe.
But for people affected by dementia the festive season can become one of the very saddest and loneliest times of the year – a time they even dread.
This is because dementia doesn't stop at Christmas.
Sadly, it is as much a part of a person's daily challenge today as it is at any other time of the year. In actual fact the festive season can make living with dementia even more difficult than it usually is. New research from Alzheimer's Society has found that over half of people affected by dementia find Christmas the most isolating time of the year and many say they actually dread festivities.
That's why it is so important that people affected by dementia know about Alzheimer's Society and the support and advice we can offer to those who need it. Using insights from people affected by the condition, we have compiled these top tips and tricks to help people affected by dementia manage a little easier this Christmas.
Tips for Christmas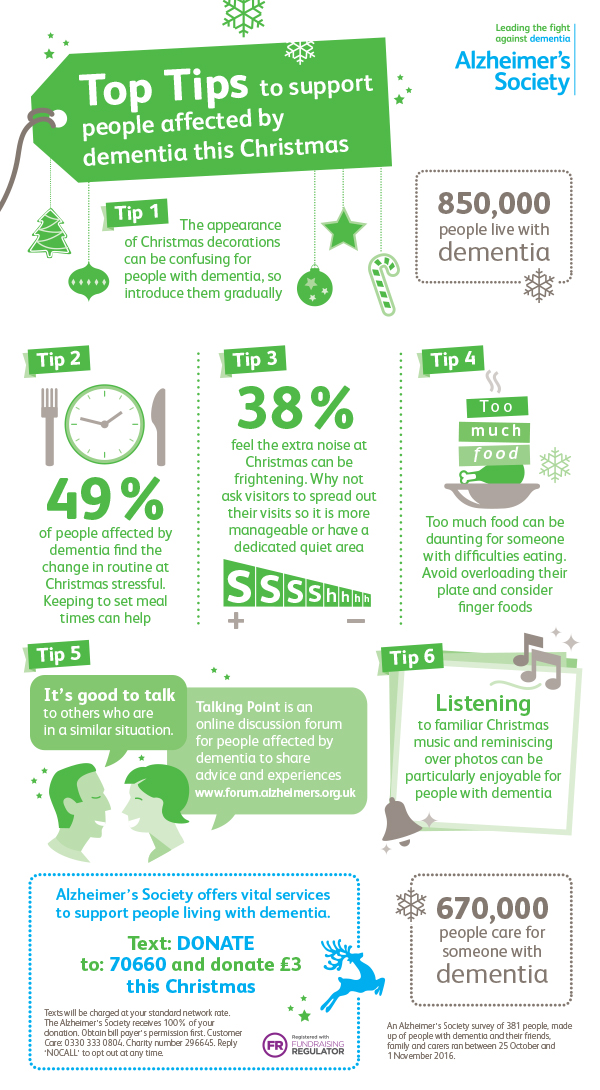 ​
Help at the Society