Since the start of coronavirus, Tony has mostly been kept apart from his wife, Sheila, who has Alzheimer's disease and lives in a care home. Tony is keen to share a poem, which he hopes will serve as a 'pick-me-up' when feeling down.
Upon reading the many comments on an Alzheimer's Society Facebook post following my latest poem, Out of Lockdown, I was struck by the depth of feeling released.
So many families were sad or frustrated at not being able to visit loved ones, that I felt I should share a piece of writing, not my own this time, that 'lifted me up' when down.
I came across this as coronavirus lockdown had now provided me with the time, at last, to sort through my late mother-in-law's box of papers.
Her son, my wife Sheila's brother, had died at the age of 35 from brain cancer. Sheila had forwarded a purse-sized card, from a bereaved neighbour, to her mum.
On the very day that the new national lockdown was announced, it passed into my hands. It was an immediate 'pick-me-up' and will continue to be so with re-reading.
It will be an antidote to the often-disappointing telephone and video calls with Sheila, and the now cancelled meetings.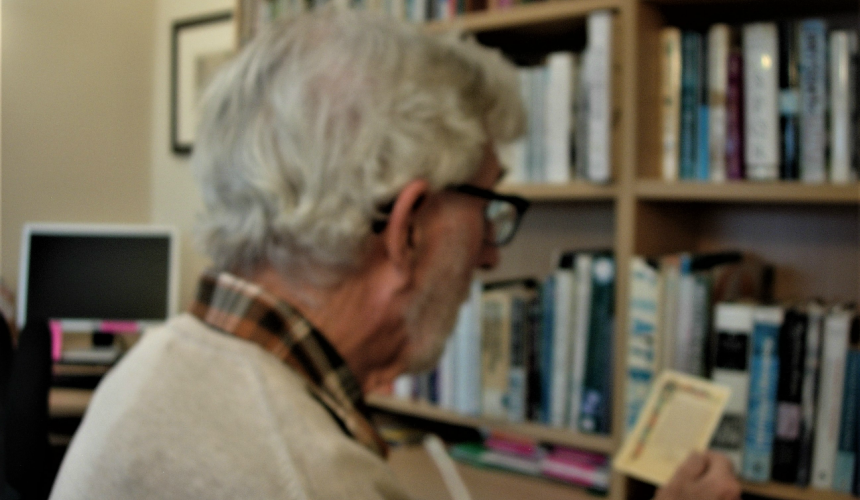 ​
The card contained a poem written by Canon Henry Scott-Holland (1847-1918), Canon of St Paul's Cathedral.
It is commonly used at funerals, but upon reading it, changing the opening line, 'Death is nothing at all' to 'Dementia is nothing at all', every verse also strikes chords as being from someone living with dementia, but no longer able to communicate. It is not a prayer, and not specific to the Christian faith. It is just a comforting message.
As a loved one's powers of communication and recognition fade, it is sometimes said that we are experiencing what amounts to a long-drawn out bereavement.
This may explain why this poem also becomes so effective in the face of 'loss' of a loved one with the progression of their dementia.
I have accordingly changed the first word of the original:
Dementia is nothing at all
I have only slipped away into the next room
I am I and you are you
Whatever we were to each other
That, we still are.
Call me by my old familiar name
Speak to me in the easy way you always used
Put no difference into your tone
Wear no forced air of solemnity or sorrow.
Laugh as we always laughed
at the little jokes we enjoyed together
Play, smile, think of me, pray for me.
Let my name be ever the household word that it always was
Let it be spoken without effort
Without the ghost of a shadow in it
Life means all that it ever meant.
It is the same that it ever was.
There is absolute unbroken continuity.
Why should I be out of mind
because I am out of sight?
I am waiting for you for an interval
Somewhere very near
Just around the corner
All is well.
Canon Scott-Holland took the poem's last line from the writings of Sister Julian of Norwich. Julian was writing in the 14th Century, at the time of Geoffrey Chaucer. She was an extraordinary person, the author of the first book written by a woman in English, lost for centuries. Its re-discovery was a spiritual detective story.
Sister Julian's exact phrase was, 'All shall be well, and all manner of thing shall be well'. The poet, T.S. Eliot, also used this in the last lines of his major work, Four Quartets. As a nun, what Julian was saying was that no place is so dark or so painful that God will not turn it to good.
This belief has echoed down the centuries, including The Queen's Speech on Christmas Day, '- even on the darkest nights – there is hope in the new dawn.'
Read Tony's poem: Out of Lockdown
Following his emotional reunion with Sheila, Tony shared with us his new poem that was written in late December.
Read Tony's poem