This year Alzheimer's Society celebrates our 40th anniversary. We've reached hundreds and thousands of people with our services and invested millions in research. Here, we mark our major achievements and say thank you to our supporters for uniting with us in a movement for change.
Our story began in 1979 with a small group of passionate and determined people who shared an ambition to make life better for carers of people living with dementia. They united to improve care, support research and educate people about dementia.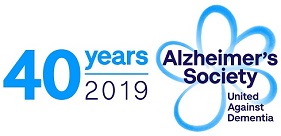 ​
From this handful of volunteers to over 20,000 today, volunteers remain our life blood. Together with our employees, we challenge perceptions, fund research and provide vital care and support. We are united in our aim of reaching everyone affected by dementia, so that no one will face dementia alone.
Fighting to fix a broken health and care system
Dementia is now recognised as the UK's biggest killer. Today 850,000 people in the UK are known to have the condition. There were only 3,021 recorded deaths in 1979, in 2017 there were over 76,000.
Much has improved regarding understanding, awareness and diagnosis of dementia. However, we still have no way to effectively cure, prevent or even slow it down - and our social care system is in crisis. Dementia is the biggest health and social care challenge society faces – we must unite now to defeat it.
Over the past four decades we have fought for change in the health and care system. United with our 135,000 campaigners, we fight to ensure the rights of people affected by dementia are recognised and that policies are amended to best support them.
Ending the stigma around dementia
40 years ago dementia was hardly discussed or understood. We have brought dementia out of the shadows, challenging stigma and changing behaviour.
We've created over 2.7million Dementia Friends and over 400 dementia friendly communities, so that people feel included and involved in their local communities.
Committed to funding vital dementia research
Right from the start we've championed dementia research. Our grants supported some of the earliest breakthroughs in Alzheimer's disease research, helping to understand the genetics and underlying causes of the disease.
We established our own research programme in 1990. Since then we have invested more than £60 million in over 400 research projects and funded hundreds of researchers.
We're committed to investing at least £150m over the next decade. Including £50m for the ground-breaking UK Dementia Research Institute that we co-founded in 2015.
We're working tirelessly towards new treatments, improved care and prevention and, ultimately, a cure for dementia.
Providing support services for everyone affected by dementia
Support has always been at the heart of what we do. We've gone from one carers' group in 1980 to nearly 3,000 local services today.
Our national services, including our Helpline, Talking Point online community, local service finder and publications, are accessed over 2.7 million times a year.
We aren't done – we want to reach everyone affected by dementia. Our new Dementia Connect service will connect people with the right support, at the right time, in the right way.
'United Against Dementia' campaign helps us shout louder than ever
In 2017, we launched our bold brand campaign 'United Against Dementia' (UAD) helping us to shout louder about dementia, raise more income, and drive whole-society change.
The campaign has seen broadcasters like C4 and ITV unite. It has initiated other campaigns like Insurance United Against Dementia. We've brought on partners like Boots and British Gas. We've also had celebrity support, ranging from 1966 World Cup Heroes, to David Baddiel and Carey Mulligan.
Looking ahead to the next 40 years of fighting dementia
In 40 years' time more than two million people will have dementia in the UK. We want to ensure those living with the condition have the care they need.
We must achieve a properly funded, fully integrated, person-centred health and social care system. A system that better meets the needs of people with dementia and those who care for them. We need to end the unfairness faced by people with dementia and the postcode lottery for dementia care across the Nations.
The Dementia Statements, grounded in human rights law, need to become reality. We'll fight to ensure people affected by dementia are included in their communities and supported to live the lives they want.
Alzheimer's Society will provide simple, universally accessible, support for everyone affected by dementia. We will find the answers that help us understand dementia better. We'll achieve this through the UK Dementia Research Institute, and our Centres of Excellence. These will be huge drivers in our efforts to achieve better care, prevention and, ultimately, a cure.
A big 'thank you' to all our supporters
Our 40th anniversary provides the ideal opportunity to recognise our achievements and to say 'thank you' for your support so far.
The time you have given and the money you have donated has enabled us to provide support services, fight for the rights of millions of people affected by dementia, and fund vital research that will lead us to a world without dementia.
Alzheimer's Society 40th anniversary
Watch our animation which celebrates our achievements over the last 40 years, and find out how you can help support people affected by dementia.
Find out more