Alison Bickel decided to volunteer at her local Dementia Hub after her mother, Adelaide, passed away with mixed vascular dementia and Alzheimer's disease.
After Alison's mother Adelaide had a mini stroke at the age of 78 she started experiencing memory loss. At the time Alison thought it was age related, but as the symptoms progressed she soon realised that it was not a natural part of aging.
'We started noticing that mum wasn't mum.' explains Alison. 'Mum was always so loving and she started becoming impatient. She was also forgetting more and more things. My dad told me she would forget to cook the dinner.'
As her memory problems worsened Alison found ways to assist her mother. She got Adelaide a white board which she would write on every day to let Adelaide know what she was doing or what appointments she had. But in time things got worse, Alison took Adelaide to the GP and a scan eventually confirmed she had dementia.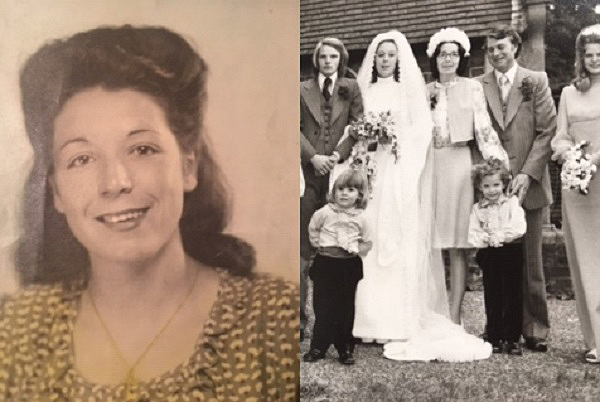 ​
Adelaide aged19 and at Alison's wedding.
After receiving a diagnosis
Adelaide was diagnosed as having mixed vascular dementia and Alzheimer's disease – the two most common types of dementia.
Adelaide also had a blood disorder which later developed into Leukaemia. Alison decided to take an early retirement from her job to help care for both her mother and father.
Alison said: 'I thought it was time to look after my mum and dad as their health was not as good as it had been. They were wonderful parents; I had a sister Sandra who sadly passed away with a brain tumour at 29. Mum and dad never got over that and I always felt I had to be there for them. Dad sadly passed away in 2013 when he was 92 - mum was lost without him.'
Adelaide went on to have another two or three mini strokes and each time her memory got worse. Alison, who lives in Morden with her husband Keith, moved back in with her mum when her condition deteriorated. 'Fortunately my husband is very understanding and said he didn't mind if I moved back with mum.'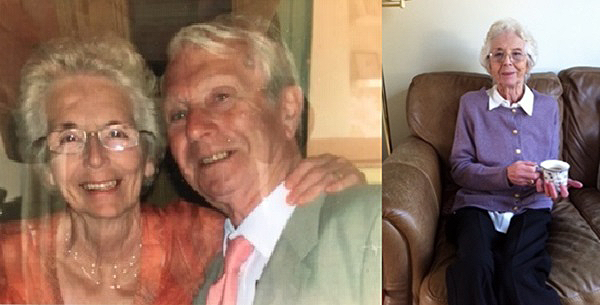 ​
Adelaide with her husband and at home.
Visiting Merton Dementia Hub
In 2016 Adelaide was referred to Alzheimer's Society's Merton Dementia Hub by the hospital where she attended regular check-ups for her blood disorder.
'The first time I took mum she was very reluctant to enter but once inside her eyes lit up and I could tell this is a place we will both enjoy,' said Alison. 'She used to say everyday "are we going to the hub?" She loved it there.'
The Alzheimer's Society Merton Dementia hub is a 'one stop shop' for people living with dementia and their carers. It offers a range of support and activity sessions delivered at both individual and group level. In 2018, 1253 people used the services provided by charity at the Hub
Speaking about the Hub Alison said: 'There is so much to do there. There's craft work, flower arranging and you can mix with other people in the same situation. I would see mum laugh and smile just like she used to. She could get very depressed at times but being involved in the activities was a real boost for her. Mum loved the beautiful garden.'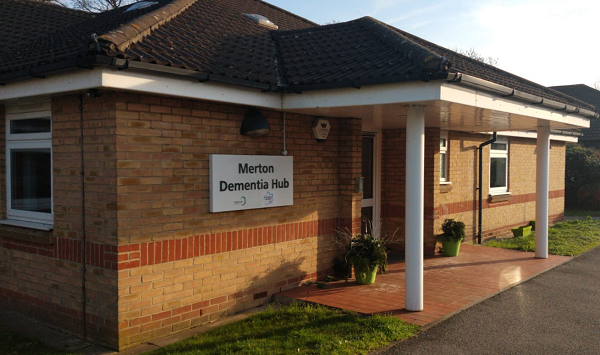 ​
Merton Dementia Hub
Opened in 2014 by Alzheimer's Society Ambassador Angela Rippon the Hub's contract with Merton Council was recently extended. This means that the 1853 people living with dementia in Merton can continue accessing the service for another three years.
Alison said: 'The hub helped me in so many ways. Mum had mixed dementia and I learnt so much about it on the courses I attended with other carers. Meeting people in the same situation and realising you are not alone is such a great help. The careers meetings where we could all sit and talk about how we were coping and share our experiences and thoughts were really useful.'
Becoming a volunteer
After Adelaide passed away in 2017 the staff at the Hub planted two roses which will slowly grow up the pergola in the garden that she had loved so much. It was not long after this that Alison decided to volunteer at the Hub. Alison now gives her time weekly at the hub's Tuesday Activity Group.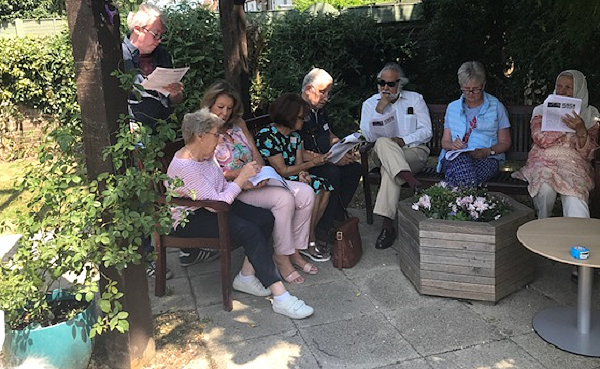 ​
Adelaide's roses (in the blue pot on the left) in the hub garden.
'I wanted to volunteer as I wanted to give something back for all the help that was given to me and mum, for all the fun and support we had,' explained Alison. 'My mum was a wonderful loving generous lady; she used to take cakes or biscuits to the hub every week. Now I'm following in her footsteps by taking in cake on my volunteering day.
'It's such a rewarding thing to do and I would recommend it to anyone. All you need is a caring heart and an ear for listening to all their wonderful stories. Working with these people is amazing'
Lena Gathercole, Alzheimer's Society Dementia Support Worker said: 'We really appreciate all the work that Alison and all our other volunteers at the Merton Dementia Hub do. Without them we wouldn't be able to effectively provide support to people with dementia and their carers. They underpin the services that we deliver and for that we are very grateful.'
Find services near you or become a volunteer
Find dementia support services near you
Search for your local support services for people with dementia and their carers, in England, Wales, and Northern Ireland.
Search for services