Tracy, a speech language therapist, tells us about her mum's journey through the stages of dementia and the difficulties dementia causes with language and communication.
I was born in England in 1960 and emigrated to New Zealand in 1970 with my mum, dad and brother. My mum, Barbara, was diagnosed with Alzheimer's in 2007.
I recall vividly when the neurologist, who just happened to be my own brother, sat me down and explained that our mother had Alzheimer's disease. A cold sick chill of fear crept through me and I wondered when the day would come when she would no longer recognise us.
Thirteen years on, fast forward through the hills and valleys of supporting her on this tumultuous journey and we've reached that place, about now.
'My father was diagnosed with Alzheimer's while caring for my mother'
My parents were a match made in heaven, they shared everything and spent all the time together that they could. So, it should have been no surprise that they also shared the same illness. My father Les was diagnosed with Alzheimer's while he was caring for my mother.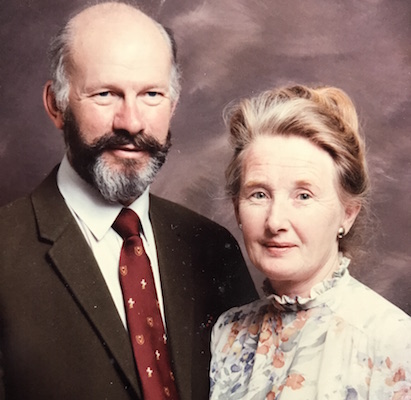 Above: Tracy's dad Les and mum Barbara when they were in their 50s.
He passed away three years ago with dementia, leaving my mother alone in the dementia unit of the rest home.
After a few short months, my mum, then aged 84 years, forgot who her husband was, and that she had been married to him for over 60 happy years.
I was observing and hearing my mum's expressive and receptive language slip gradually, but surely, backwards through the phases I was moving children's language forward in as a speech therapist. My mum is now using expressive jargon in place of real speech.
'My mum is still my mum, and I am still her daughter'
As the months slide past, I glance around her hospital room at the beautiful and elaborate embroidered pictures she stitched, at the photos of her interacting joyfully with her grandchildren, or the picture of her holding a silver cup for being the star bridge champion that she was. Is she still her?
Without the expressive language, or the understanding, is she still the person that was my mum?
The essence of her is still Mum, the tilt of her head, the unexpected laugh at something funny, a loving expression for me while we sit in a comfortable silence, looking at the gardens and flowers.
My mum is still my mum, and I am still her daughter. I remember who she is, and at the end of the day, I think that is what really counts.
Separated from Mum during lockdown
Alzheimer's is a journey of the unexpected, on so many fronts. It took an even stranger route when Covid-19 infiltrated our world. This meant we weren't able to visit Mum. We could only see her on video with one of the empathetic care team at her rest home.
Mum could not speak to us and we were fortunate if she even opened her eyes and looked at the screen, I searched hopefully through the grainy pixels of Zoom for some glimmer of recognition from her.
Thankfully, New Zealand is now out of lockdown. This means residents can be visited freely as before.
'Alzheimer's is not for the fainthearted'
Alzheimer's is a journey of love, done backwards. I liken this journey to peeling an onion, ever so slowly. Each skin peeled off the onion reveals new challenges, with tears along the way, until you reach the sweet, soft kernel in the middle, that is called love.
When you have loved and been loved by someone, such as my mum, words do not matter anymore, either hers, or mine.
When everything else is stripped away and communication has long since fled, there are still the colourful threads of love that bind and stitch us strongly together.
Yes, Alzheimer's is a mindless, maddening illness but it masterfully teaches us most ironically to be, mindful. To seize the sweet little moments in time, when they occur, then bask inside them, and celebrate the goodness that is called life.
Communicating with someone with dementia
Read our advice on how to communicate with somebody who has dementia, including tips on what to say, how to speak, and how to listen.
Read advice on communication