Hear why its vital women in rural parts of the world are better understood and supported if they are affected by dementia.
Women are disproportionately affected by dementia than men. It's the biggest killer of women in the UK. Despite this, it remains a hugely misunderstood health condition.
This is particularly apparent for women in rural parts of the world, who often face the most extreme stigma due to a lack of awareness.
Things need to change. With the UN Commission on the Status of Women currently being held in New York, there hasn't been a better time for rural and urban activists to transform these women's lives.
Sherena Corfield, International Project Support Officer, explores this further and takes a look at the rights and activism of rural women affected by dementia in Ghana and closer to home.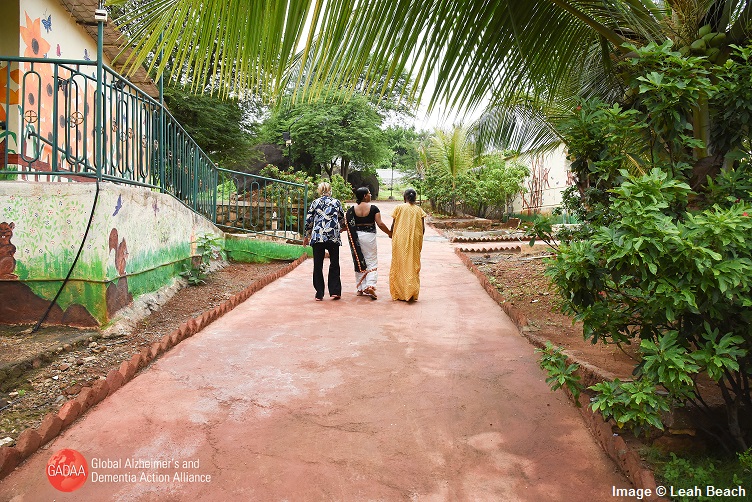 Women in rural areas are more likely to experience stigma if they're affected by dementia. They're also less likely to get the right support.
Experiences of stigma in Ghana
In 2010 in a small village in the south of Ghana, Ama Hemmah was doused in petrol and set alight. She suffered horrific burns.
According to her son, her only crime was 'exhibiting signs of forgetfulness and other symptoms of old age.' He said that she had been acting differently lately - forgetting things, talking to herself and sometimes being aggressive.
Seeing Ama displaying this behaviour, five members of the local community, including a pastor, poured a gallon of kerosene over Ama and set her ablaze. The attackers say her death was an accident and that they were trying to exorcise an evil spirit from the woman.
Yet, the local police reported that Ama had been subjected to severe torture, to get her to confess to being a witch. She died less than 24 hours later.
Standing up for people like Ama
Esther Dey, a nurse who had just moved from Ghana to the UK to study medical ethics, read about Ama's story in horror.
Despite studying general nursing for four years in Ghana, Esther had never learned about dementia. After working in a care home in the UK, Esther realised that Ama must have been living with dementia.
She immediately changed her plans, feeling compelled to help.
I wanted to learn and to come home to help. There was nothing in Ghana to help people with dementia'
Esther switched her university programme and pursued a two-year course in dementia studies. She then returned to Ghana in 2012 and founded the Alzheimer's and Related Disorders Society of Ghana, which is now a member of Alzheimer's Disease International.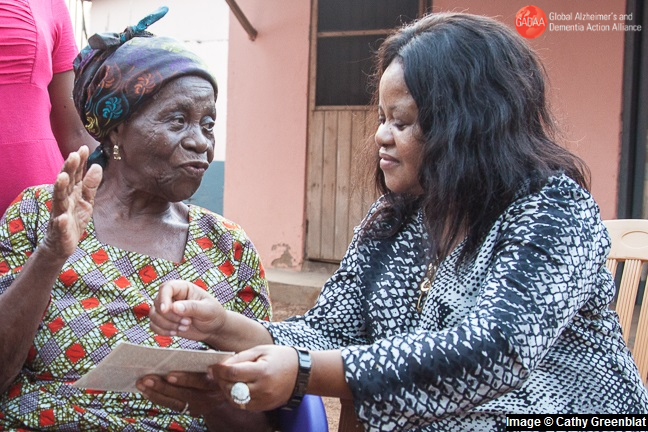 Esther (right) with her mother in Ghana.
Years later, another older woman was found in a rural village outside of Accra. Naked and clearly confused, local people started abusing her in the street.
This time the police intervened and contacted Alzheimer's Ghana, as they had seen Esther on local TV news talking about signs of dementia.
Esther and her team met the woman at the police station and helped to identify her family. It transpired that she had been lost for three days and walked miles from her house. Eventually reunited with her family, this story had a happy ending.
Due to Esther and Alzheimer's Ghana's hard work and dedication, the police force understands dementia better. If they see an older person showing signs of the condition, they now know to seek medical help. This is fantastic progress for families affected by dementia.
Rural communities closer to home
We estimate that approximately 17,000 people affected by dementia live in rural parts of Wales. They face barriers and challenges to accessing specialist support, directly due to where they live. Alzheimer's Society Cymru is, therefore, calling for a new deal for people living in rural Wales.
We spoke to people affected by dementia from Welsh rural areas as part of our 'Lived Experiences' report. Our report highlighted four themes that people affected by dementia feel isolated about:
transport,
information and support,
personal support networks,
and dementia awareness.
Our findings will be used to influence the Welsh Government's policies affecting people living with dementia in rural areas.
The time for action is now
To help rural women affected by dementia everywhere, awareness and service coverage is vital. Communities must recognise that dementia is an urgent medical condition. And governments must face the impending dementia crisis.
Without action, we risk leaving some of the most underserved and marginalised women behind.
Alzheimer's Disease International is leading on this call internationally. They're asking for all governments to progress national policies which advance the awareness, prevention and diagnosis, treatment, research and care for those affected by dementia.
International civil society organisations also have a major role to play in global action on dementia. They can join the Global Alzheimer's and Dementia Action Alliance to work with other INGOs on this urgent cause.
In the UK, we're calling on the Government to ensure the voices of people affected by dementia are included in the upcoming England Green Paper on adult social care. We want to make sure legislation is actioned in the devolved nations too.
But, what you can do?
Join our campaigning network to become part of the wider movement that is pushing for positive change in the lives of people affected by dementia.