Kathryn Smith, Director of Operations at Alzheimer's Society, reflects on Emmerdale's well-handled Ashley Thomas dementia storyline.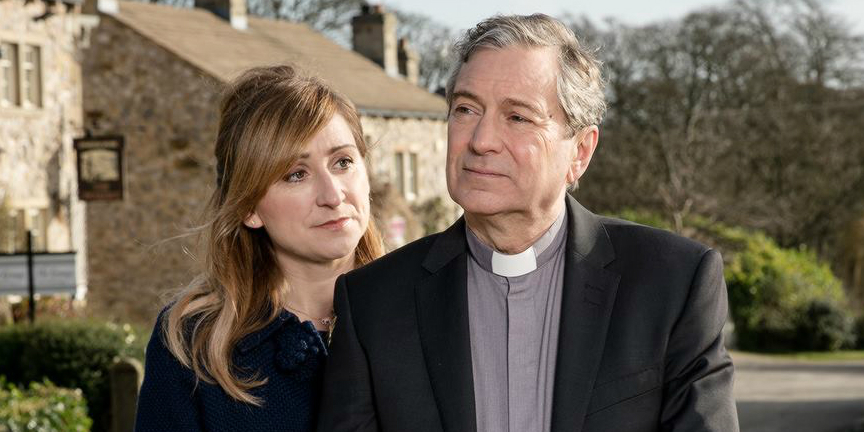 ​
Almost two years ago, Emmerdale approached Alzheimer's Society wanting to explore the theme of dementia with one of their long-standing, well-loved characters. We worked closely with the researcher, director and producers to help them understand dementia and ensure the representation was as accurate as possible in the confines of a soap, consulting on scripts and visiting the set to advise on filming.
In November 2015 it was revealed Ashley Thomas, resident vicar, had been diagnosed with younger-onset vascular dementia, which is caused by problems with blood supply to the brain - for example after a stroke.
Vascular dementia is the second most common type of dementia (after Alzheimer's disease), affecting around 150,000 people in the UK. People with dementia whose symptoms started before they were 65 are often described as 'younger people with dementia' or as having young-onset dementia.
The soap got to grips exploring the issues Ashley faced as a younger man, with a teenage daughter, young son, and a new wife and baby to juggle along with his diagnosis. It is a very unique storyline and one that has given us a snapshot of the difficulties faced by so many behind closed doors up and down the UK and across the world.
A heartfelt ending to Ashley's life
The highlight for us, that really showed Emmerdale's commitment and understanding of ementia was the special episode that aired in December. Shot from Ashley's perspective, it was ground-breaking,and gave an excellent representation of what it might be like to live with dementia. An incredible 6.4 million people viewed the special episode, showing the impact and reach a show like this can have.
Ashley's final episode aired on Friday 7 April, showing the community gathered around the local vicar who had been a backbone of the village for more than 20 years. For me, it showed how important it is to see the joy and celebrate someone's life, even in the saddest of times. It was a heartfelt and moving end to Ashley's life. You can catch up with the latest episode of Emmerdale on the ITV Hub.
Changing public perception of dementia
The progression of Ashley's dementia unfolding in front of viewers' eyes has been heart-wrenching and, at times, difficult to watch. Emmerdale have wanted to get it right from the start and have been open to feedback. Storylines like these also have the power to make a huge difference and change public perception. It was key, from Alzheimer's Society's perspective, to cut down on the drama and keep it as true-to-life as possible, which Emmerdale have totally respected while keeping true to the show. We have heard from so many people saying how they saw their own experience of dementia in Ashley's.
Of course, many people won't have experienced dementia like this - and it's important to remember everyone's experience is different. But we hope that this has broken down barriers and helped many understand what dementia can be like and how it's so important to ask for the help and support you need.
Following Ashley's death, we will no doubt see each of his family members and friends experience and approach bereavement in their own way and it is important that they are supported. Emotional support may help, and talking feelings through with family and close friends is often a source of comfort.
National Dementia Helpline
For those affected by the storyline, Alzheimer's Society provides a National Dementia Helpline, the number is 0300 222 11 22. 
Make a donation
Help us continue to provide people like Ashley and his family with the vital care and support they need by making a donation today.