Lenny White's dementia-friendly barber business is proving a big hit in Northern Ireland, and he's now setting his sights on the rest of the UK.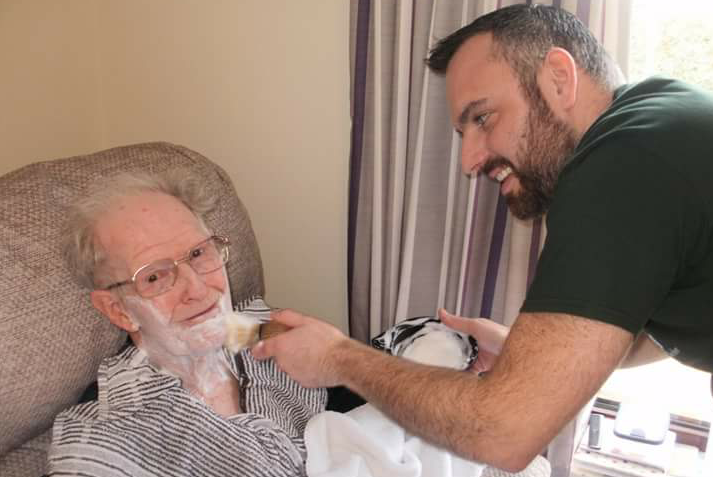 ​
For people living with dementia, remaining independent and participating in local communities can be both daunting and frustrating.
Our statistics show that less than half (47%) of people living with dementia feel a part of their community, while over a quarter (28%) say they have given up even getting out of the house. So whether it's a bank, library or local shop, dementia-friendly businesses have a huge role to play.
Meet the dementia-friendly barber
Enter Lenny White, 35, the mobile barber from Northern Ireland who has made it his mission to make a difference for the men living with dementia in his local area.
Having previously worked in a nursing home kitchen, Lenny noticed that the hairdressing services were often more tailored towards women – from the lighting and decor to the general conversation.
'Men love getting together with other men and having a bit of banter,' says Lenny. 'Just because someone has dementia, it doesn't mean they have to lose out on things like this.'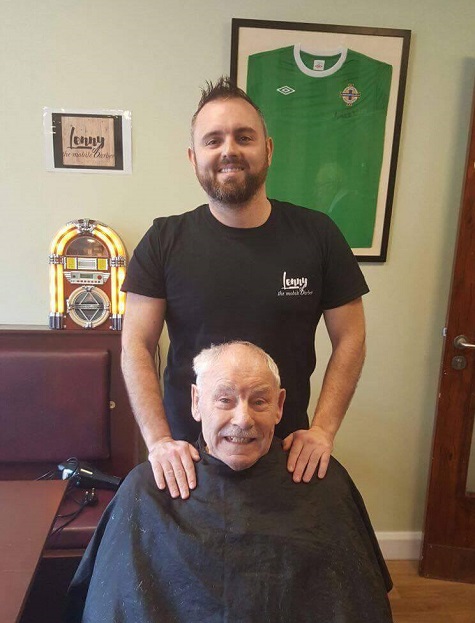 ​
Lenny's mobile barber shop provides one solution, bringing haircuts to the homes of those who aren't able to get to their local barber shop.
Whether it's a care home, day centre, hospital or residential setting, Lenny recreates the traditional barber shop experience and helps restore some dignity to his customers.
As well as barber shop signs, old photographs and hot towels, Lenny also brings along an old jukebox so that his customers can sing along to the classics.
'When my clients come into the barber room they hear the music and smell the different scents and it seems to instantly relax them. I play Elvis Presley, Dean Martin, Frank Sinatra and have many a sing song with my clients - it's amazing to watch.'
Becoming a Dementia Friend
While Lenny admits to knowing 'very little' about about dementia beforehand, he's since become a Dementia Friend and enrolled in specialist dementia training through Alzheimer's Society and Dementia Friendly Holywood.
He also says he's learned a lot from the people living with dementia whose hair he cuts. 'I've learned to meet them where they're at. I'm usually quite a fast person, always go go go, and since starting my business and working with people with dementia I am learning to slow way down, be patient and talk them through it.'
'Every business should be dementia friendly.'
Since his first care home visit at Bangor's Kingsland Care Centre, Lenny's mobile barber business is growing fast. He's now setting his sights on the rest of the UK, and encouraging other businesses to become more inclusive for people living with dementia.
'Dementia is just so common nowadays,' he says. 'Every business should be dementia friendly.'
Is your business dementia friendly?
Whether an employee, manager or business owner, find out how you can help enable people affected by dementia to live well in their community:
For more information on Lenny's mobile barber business, visit his Facebook page.