Caroline Dinenage, Minister for Care, is now a Dementia Friends Champion. Here she shares why she feels it is important to shift perceptions around dementia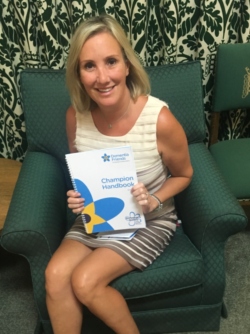 Minister for Care, Caroline Dinenage
In my role as Minister for Care I am responsible for dementia, but the issue runs deeper for me.
My grandmother had dementia and I, like so many, have seen first-hand how she was affected. I saw how she began to rely heavily on my mum who became her main carer. My uncle too lives with the condition and is very fortunate to be cared for by brilliant, knowledgeable care home staff.
The statistics around dementia are shocking. We often forget how far reaching dementia is – it's now the UK's biggest killer and someone develops it every three minutes. Still, people incorrectly believe that dementia is a natural part of ageing or an older relative is just becoming 'a bit forgetful'. It is not. It is a disease of the brain.
That's why, this week I have joined 10,500 others to become a Dementia Friends Champion - a volunteer who encourages others to become a Dementia Friend and make a positive difference to people living with dementia in their community.
I have long admired Alzheimer's Society's Dementia Friends programme and became a friend in 2015 as the MP for Gosport - I wish it had been around when my grandmother was alive. It really has been so helpful in shifting perceptions around dementia and helping those affected to stay feeling part of their community. In recent years the barriers around dementia have slowly begun to crumble and at last there has been a shift in society towards acceptance and inclusion of those affected.
Dementia makes front pages, it's been the subject of major soap storylines and household names like Barbara Windsor, Carey Mulligan and Terry Jones – to name a few – have come out to talk openly about their experiences. But there is still a long way to go.
People with dementia often still feel isolated, or hidden, because of stigma from friends, neighbours or relatives who are frightened of the symptoms and don't know how to react, or even what to say.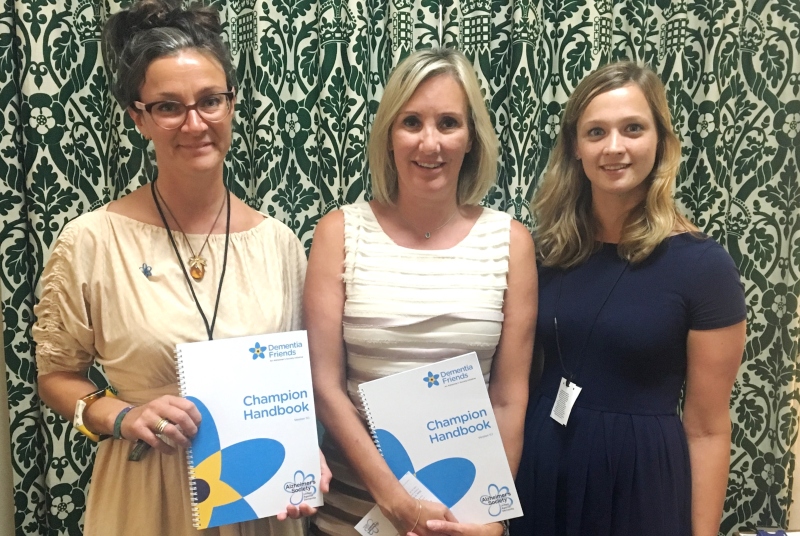 Sally Copley (left) and Ele Yorke (right) from Alzheimer's Society, with the Minister of Care, Caroline Dinenage (middle)
Changing the way the world thinks
Alzheimer's Society's Dementia Friends and Dementia Friendly Communities are changing the way the world thinks and acts about dementia. There are 2.5 million Dementia Friends, making it the biggest ever social action movement to change perceptions of the condition. Incredibly, in every school, train carriage and even in the Government's Cabinet, there is someone who is a Dementia Friend taking action to improve the lives of those affected. This is a huge achievement.
And beyond being a Champion, I am committed to delivering the Government's Challenge on Dementia 2020 - to make England the best place in the world for people with dementia to live. We continue to make progress in improving diagnosis rates, ensuring better access to care and support, increasing public awareness and funding for dementia research. Just last week, we reached the milestone of over one million NHS hospital staff to have received dementia awareness training since 2012.
The Government continues to maintain a focus on dementia, prioritising support for staff education, training and development across all settings; dementia care and the provision of high quality, person-centered post-diagnostic support; and investment in research to develop new treatments, models of care and innovative technologies to enable people to live well with dementia.
I look forward to delivering my first session and will now make it my mission to encourage others to take action, so we can break down the barriers that still face people with dementia and their families and encourage all of you to become Dementia Friends too.
Next steps
Learn more about the Dementia Friends programme and sign up today.