Alzheimer's Society and Department of Health's work on dementia awareness campaign
The Society has been working with the Department of Health on its new dementia awareness campaign in England. Press Officer Louisa Sampson reports on our involvement with this high profile initiative.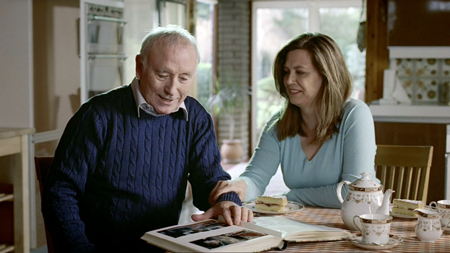 Dementia is still misunderstood by many people but current support from the Prime Minister is helping build momentum for change. The Society has been working with the Department of Health on an awareness campaign in England to improve people's understanding and help transform attitudes towards early diagnosis, which launched on 21 September, World Alzheimer's Day.
The Society commissioned an opinion poll to explore how the general public feel about dementia. Despite the fact that 44 per cent of people know someone with dementia, there was a huge lack of awareness about the condition among people who took part in the survey. Over half said they would find it hard to talk about dementia to a friend or family member they thought might have the condition. Nearly two-thirds would not be confident telling the difference between signs of dementia and normal signs of ageing.
Difficult conversation
The aim of the Department of Health campaign is to tell people about the early signs and symptoms of dementia and encourage those who might be worried about someone's memory to speak with them about it.
This can often be a difficult conversation to have, but it's a positive step towards getting help. We want people to understand the benefits of diagnosis, since it can provide access to support and treatments that may slow the progress of dementia. We also put some top tips together to help people in having this important conversation and there's further information from the Department of Health.
The public relations agency Freud Communications was enlisted to publicise the campaign, and we worked with them to gain media coverage. Thanks to our generous media volunteers who shared their experiences of living with dementia, there were stories across all major television channels and in many national newspapers.
Seek help
The campaign launched with television commercials and online banner advertising. The TV ads encourage people to seek help if they're worried about someone's memory and will be shown in the run up to Christmas.
Sir Michael Parkinson, Fiona Phillips and England goalkeeper Gordon Banks lent their support by sharing their personal experiences of dementia in a short film. Along with the TV commercial, this film can be viewed online.
Coronation Street actress Sally Lindsay raised awareness by talking about how her grandmother had dementia on Daybreak. BBC Breakfast, Sky News, Channel 5 programmes and The Telegraph, Independent and Express newspapers also spread the message about the benefits of taking steps to get an early diagnosis of dementia on World Alzheimer's Day.
If you are interested in sharing your experiences of dementia in the media, please contact the Press team on 020 7423 3576 or [email protected].
Take a look at our current campaigns.