Gender pay gap 2017 - 2018
At Alzheimer's Society, we are committed to putting equality, diversity and inclusion (EDI) at the heart of everything we do.
Following changes to equality regulations in 2017, all organisations with 250 or more employees are now required to publish statutory gender pay gap data.
What is the gender pay gap?
The gender pay gap is the difference in average earnings between men and women. It gives us information about the representation of men and women across the Society. It is not the same as 'equal pay', which looks at the difference in earnings for men and women performing equal, comparable work.
The Society's pay structure
Our pay structure is underpinned by job evaluation which groups jobs of equal value into grades. At the Society, jobs in each grade receive the same salary, differing by location only. This ensures our employees, men and women, are paid the same amount when performing equal work.
Our data
Gender pay gap report snapshot as of 5 April 2017

Proportion of men and women in each pay quartile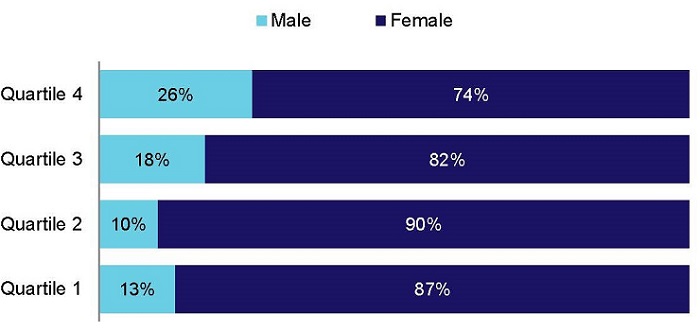 Quartiles divide the population into four equal groups. They are calculated by arranging all the hourly rates in a line from the lowest to highest. Here, quartile 1 represents the lower hourly rates and quartile 4 the higher hourly rates. We see a lower proportion of women in quartile 4 (74%) compared to quartile 1 to 3 (82-90%).
Why do we have a gender pay gap?
The gender pay gap at Alzheimer's Society results from the over-representation of women in lower salaried roles, such as Day Support Worker and Service Administrator, and the larger representation of men in higher salaried roles.
This is representative of wider societal employment trends, such as more women working part-time, and a higher proportion of women working in the care sector in lower paid roles. Read more information about this on the Office for National Statistics website.
What we've done so far
Although our gender pay gap is lower than the UK average (18.1%), we know that we need to improve the representation of women and men across the organisation to achieve our mission.
From 2015-2017 we established our first EDI strategic plan which focused on setting the foundations of equality. This included:
Our first EDI policy, ensuring that all our people policies take into consideration equality and inclusion.
A new recruitment e-learning module integrating inclusion and bias prevention tools.
The launch of our first mandatory EDI learning module.
These initiatives have raised the profile and awareness of EDI across the Society.
What we've got planned
Our 2018-2023 strategic plan will now advance our solid EDI basis towards an approach in which EDI underpins everything we do.
This will include activities that will help us to reduce our gender pay gap. For example:
We will develop our people data to better understand the positive actions that can help close our gender pay gap, such as mentoring and return to work programs.
We will continue to enable our leaders through inclusive leadership development
We will enable managers through unconscious bias training.
We will also continue to attract more diverse applicants by further embedding inclusion in our recruitment and progression practices.
We will embed bias reduction tools within our performance assessment and development processes
For more information, please view our Gender pay gap FAQs